Crooner Rod Stewart apologizes for 'ISIS mock execution' in Abu Dhabi desert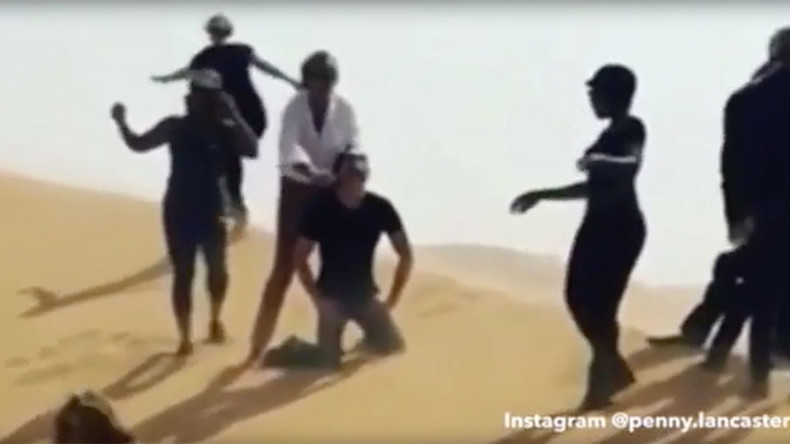 British musician Sir Rod Stewart has apologized for mimicking what appears to be an Islamic State (IS/formerly ISIS ISIL) execution in the Abu Dhabi desert.
The mock execution video shared on Instagram by Stewart's wife, Penny Lancaster, has now been deleted.
The clip shows Stewart, 72, dressed in a white shirt and sunglasses, talking to a man who is kneeling in front of him. Placing his hands on the unknown man's shoulders, he appears to be making cutting motions across his throat.
The scene is reminiscent of several propaganda films released by the terrorist group, including footage of the killing of Alan Henning, a British aid worker.
The singer has apologized for his actions and says he was just "larking" about with friends before his concert in the capital of the United Arab Emirates.
"From re-enacting the Beatles' Abbey Road crossing to spontaneously playing out Game of Thrones, we were simply larking about pre-show," he said in a statement to the Independent.
"Understandably this has been misinterpreted and I send my deepest apologies to those who have been offended."
Critics have called the stunt "sick" and "offensive" to victims and their families.
The IS executions alluded to – carried out by British extremist Mohammed Emwazi, known as Jihadi John – drew global attention when the terrorist group released high-quality footage of the deaths.
You can share this story on social media: