'Groupthink?' 80% of Britain's university lecturers are left-wing, says think tank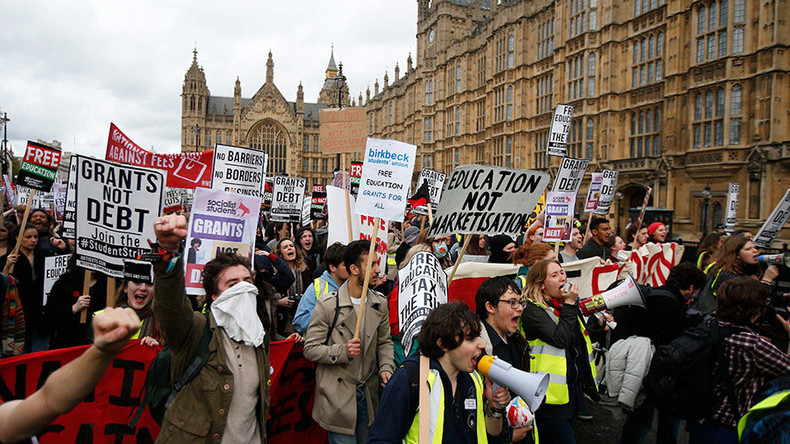 Universities in the UK are at risk of developing a "dysfunctional atmosphere" and of practicing censorship because scholarship is dominated by lecturers with left-wing views, according to a new report by one of the world's leading think tanks.
In its report, 'Lackademia: Why do academics lean Left?' the Adam Smith Institute warns the "overrepresentation" of left-wing views in academia could lead to a "groupthink."
It called on universities to pursue "ideological diversity."
"Social settings characterised by too little diversity of viewpoints are liable to become afflicted by groupthink, a dysfunctional atmosphere where key assumptions go unquestioned, dissenting opinions are neutralized, and favoured beliefs are held as sacrosanct," the report says.
It claims right-wing academics only make up 12 percent of lecturers at British universities, in stark contrast with the wider population, half of which support conservative views.
Seeking to explain the "skew" towards leftist views, the report says it has nothing to do with intelligence but rather people's "openness to experiences." Those who score highly in this personality trait tend to pursue a career in academia.
While potentially curbing free speech, the think tank warns that "ideological homogeneity" in higher education may lead to bias in scholarships, as well as a lack of funding from the ruling Conservative government.
The report recommends collaborations between opposing parties and efforts to raise awareness of potential double standards in order to limit the impact of overwhelming liberal views in universities.
It also says the number of conservative academics may have declined by as much as 25 percent in the last 50 years.
"Conservatives have left the academy. You find a fair few libertarians—people with economically right-wing but socially liberal views—but hardly any who admit to being socially conservative," Ben Southwood, head of research at Adam Smith, said.
Although he says that it does not matter if all academics are "communists" as political views should not affect the distribution of scholarships in the first place, he says it is best to treat "too much intellectual homogeneity" with caution, as left-leaning academics have various ways of "infecting their scholarship."
"No one is suggesting quotas, but we should be mindful of too much intellectual homogeneity," Southwood said.
"As John Stuart Mill pointed out, we need to air views in order to find out what's true."
The report is based on a Times Higher Education survey from April 2015, which asked everyone with a UK university email address, including, professional and support staff, as well as lecturers, who they would be voting for in the next general election.
The survey revealed that 46 percent intended to vote, 11 percent for Conservatives and just O.4 said UKIP.
Noah Carl, author of the report and researcher at Nuffield College, Oxford, pointed out that one seldom meets a Conservative-leaning academic.
"It cannot have escaped the notice of anyone who has spent time in British academia, especially in the social sciences and humanities, that there is a sizable left-liberal skew."
However, the report has sparked opposition from students and professors, as well as the University and College Union (UCU), which deemed it a "reds-under-the-beds scare story from a right-wing think tank."
"Whatever their politics, lecturers encourage debate and the challenging of perceived wisdom," a spokesperson told the Times.
You can share this story on social media: