Boris Johnson hits out at Brexit 'moaning & droning' after Blair & Major doom-mongering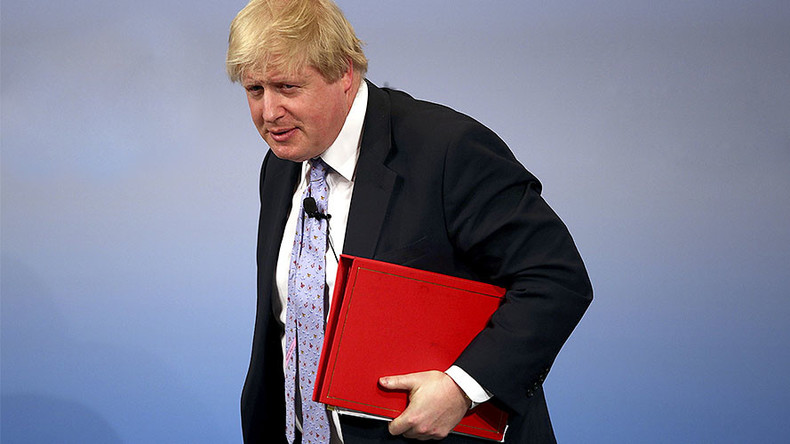 UK Foreign Secretary Boris Johnson has hit out at those projecting Brexit doom and gloom in a speech seen as a rebuke of former Prime Minister Sir John Major.
Speaking to the British Chamber of Commerce (BCC), Johnson said he is becoming "impatient" with "people moaning and droning about the state of the world."
"When I hear them warn that the sky is about to fall on our heads I feel like saying come off it sunshine," he added.
Johnson said Brexit presents an "unrivalled opportunity" for a new free trade deal with the EU, but accepted it could take longer than two years.
The comments will be seen as a government response to Major's criticism of Brexit on Monday night. He accused the government of leading the public to expect a future outside the EU that is "unreal and over-optimistic."
The ex-Tory leader also warned that the chance of no Brexit agreement being reached within the two-year timeframe after Article 50 is triggered next month is "very high."
Johnson's comments may also be directed at former PM Tony Blair, who recently called for people to rise up against Brexit.
A range of countries had told Johnson they were willing to negotiate trade deals with Britain, Johnson said.
"I think it's very important that as we set out on this journey we are positive about the outcome for the very good reason the outcome will be fantastic for this country.
"We have every reason as a nation to be confident. Many of you were wise enough not to believe those forecasts of the calamity [in the run up to the EU referendum].
"Since June the skies have not opened up. We are right up there. The investment continues to flood in."
However, Johnson accepted that an EU trade deal could take longer than two years to negotiate.
"It depends how our friends and partners chose to handle it. They can play it long, they have electoral considerations, as everybody knows. I think there's every reason why we [should] go this full tilt and get it done within two years. But let's see how it goes."
Johnson said Britain is getting "the export ball back over the net." He repeated a line he has used many times before that the UK exports "tea to china, wine to Italy, and I am glad to say, Nigel Farage to America."