Scotland 'seriously considering' 2nd #indyref in 2018... and a German map-maker is ready for it
Published time: 24 Feb, 2017 17:37
Edited time: 25 Feb, 2017 15:47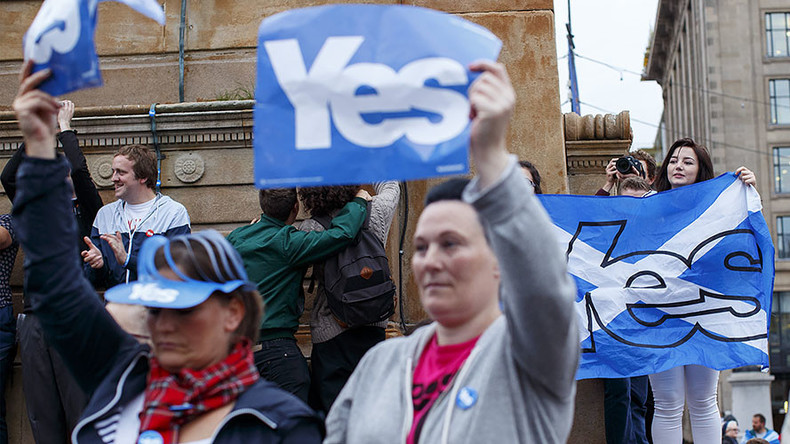 The Scottish government is seriously thinking about staging a second independence referendum next year, triggering a mixed reaction within the EU.
Charles Grant, an adviser to the Scottish government's Standing Council on Europe, told Reuters: "The Scottish government is thinking very, very seriously about going for an independence referendum next year."
Grant said that Brexit is the main reason behind Edinburgh's renewed attempts to make Scotland an independent country.
"They feel they have enough emotion and momentum to overcome the economic downsides... the harder the Brexit, the more likely they are to break away," Grant said.
Scots voted 55 percent to 45 percent in favor of remaining in the UK in a tightly contested September 2014 referendum, but largely opposed the UK's decision to leave the European Union. In fact, 62 percent of the Scottish population voted for Britain to remain in the EU.
As the British government is increasingly leaning toward "hard Brexit," which entails the total withdrawal from the European single market and customs union, the ruling Scottish National Party (SNP) has intensified its calls for a second independence vote.
Last October, the Scottish government published a draft bill for the second referendum.
Nicola Sturgeon, First Minister of Scotland and leader of the Scottish National Party (SNP), said withdrawal from the single market is likely to affect the decision of whether proceed with the second vote.
News of the renewed Scottish attempts to secure independence has been met with mixed reactions within the EU.
Interkart GMbH, a German map-maker, has produced a range of maps for 2019, featuring Scotland as an independent country and a member of the EU.
The firm's chief executive officer, Hans-Joachim Niemeyer, told the National that he has "no doubt that the UK will leave the EU in 2019. Why should someone buy an old EU map if they can get an updated map?"
"It's not only a business issue, it's also a personal one. I believe that the decision of the UK to leave the EU was a great error. I know the problem that nobody has paid attention to the Scottish people, who totally disagree with Brexit. There is a realistic chance that Scotland will be independent," he added.
The firm also offers a traditional version of the map with Scotland remaining a part of the UK.
At the same time, ex-European Council president Herman Van Rompuy has cautioned Scotland against a unilateral move for independence.
The lack of agreement between Edinburgh and Westminster may complicate the way in which the EU treats the issue, Van Rompuy reportedly said.
However, Brussels already seems divided on the issue.
Guy Verhofstadt, the EU's chief Brexit negotiator, has said: "Europe hasn't forgotten that a large majority of the Scottish people voted to remain."
"We need the Scottish people and their firm European beliefs."
"We cannot afford to lose that," Verhofstadt declared.