'How to deal with right-wing views': Academics under fire for 'intolerant' seminar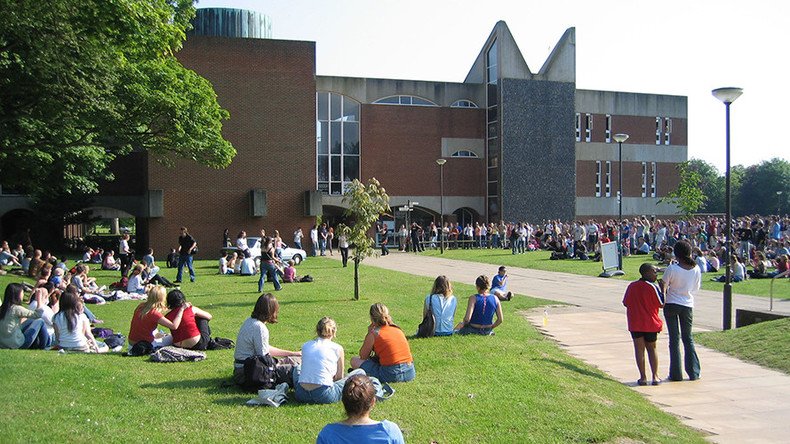 University lecturers have been accused of trying to curb free speech on campus by organizing a seminar on how to "deal with" right-wing students.
Academics at the University of Sussex have come under fire for arranging a meeting called "dealing with right-wing attitudes and politics in the classroom."
Critics have accused researchers and lecturers of trying to clamp down on free expression, but the university insisted the meeting was organized to address extreme views such as racism and homophobia.
The seminar was organized by International Relations Professor Jan Selby, who specializes in the Israel-Palestine conflict and is director of the Sussex Centre for Conflict and Security Research (SCSR).
According to the Times, some students were taken aback when posters appeared advertising the event.
Sussex University Vice-Chancellor Adam Tickell wrote to university staff and students urging them to embrace a wide range of opinions, rather than dismiss them.
Professor of Education Alan Smith, who is based at the University of Buckingham, told the Times the seminar was tantamount to "intellectual vandalism."
"It is depressing that university faculty and students should be conflating racism and homophobia with conservatism. It amounts to intellectual vandalism.
"Universities are about free speech and testing beliefs against the evidence. It is good that the vice-chancellor of Sussex has acted straight away to underline the need to show respect for a range of ideas and opinions."
Author and journalist Tom Slater, who co-edits the online magazine Spiked, accused British universities of becoming "intolerant of dissent."
"The Sussex poster was like a Freudian slip," he told the Times.
"Though the university now claims the event was actually about tackling extreme views, the conflation, unwitting or not, was telling. Universities have become increasingly intolerant of dissent, and even right-of-centre views are seen on a sliding scale of bigotry."
Spiked magazine itself has consistently positioned itself in defense of free speech, even when the speaker is espousing extreme far-right or fascist ideas.
The University of Sussex said: "The wording used on this poster did not reflect the aims of the discussion organized by the small number of staff involved, who have recognised this. The event was aimed at talking about what role teaching staff should have in challenging extreme attitudes, such as racist or homophobic comments, on campus. Racism and homophobia exist across the political spectrum and there should be no elision between right-wing politics and extremism."
You can share this story on social media: