RAF drone pilots working through 'kill list' of British citizens fighting for ISIS
Published time: 23 Feb, 2017 11:52
Edited time: 26 Feb, 2017 09:06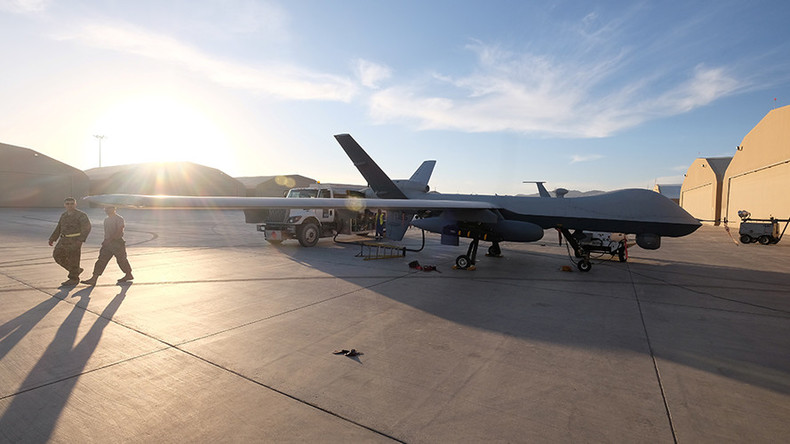 British drone pilots are steadily working their way through a US-style kill list of UK citizens who are fighting with the Islamic State (IS, formerly ISIS/ISIL) in Syria.
Parliament and the public have not been officially informed of the assassination program, which has been underway for some time, the Daily Mail reports.
"When we know where they are we kill them," a defense source told the paper.
"Our priority is those plotting against the UK."
"We have found evidence of this. We are also helping the French who don't have our capabilities."
In a statement the Ministry of Defense (MoD) said: "We and our coalition partners have been clear that if you are fighting for Daesh (IS) in Iraq and Syria then you will be targeted, irrespective of nationality.
"The UK is committed to the defeat of Daesh and publishes regular updates on air strikes conducted by the RAF [Royal Air Force]."
Critics of drone warfare fear the steady drift towards the US model of extrajudicial assassination is a dangerous one.
"The UK has been working hand-in-glove with the US on developing drone warfare so while this move is shocking it's not surprising," Chris Cole of the Drone War campaign group told RT in January.
"It's likely that we will see Obama's 'Terror Tuesday' style meetings now take place in the UK, conducted presumably by a sub-committee of the National Security Council, where a list of overseas suspects will be regularly reviewed, with some of them then placed on a 'kill list' for dispatch by UK drones."
Cole also pointed out that the UK had already admitted to "the drone killing of Reyaad Khan in August 2015.
He said that the strike "may have been the UK's first targeted killing outside of a warzone – but it's unlikely to be the last."