Royal godmother accused of whipping fox hunt protester (VIDEO)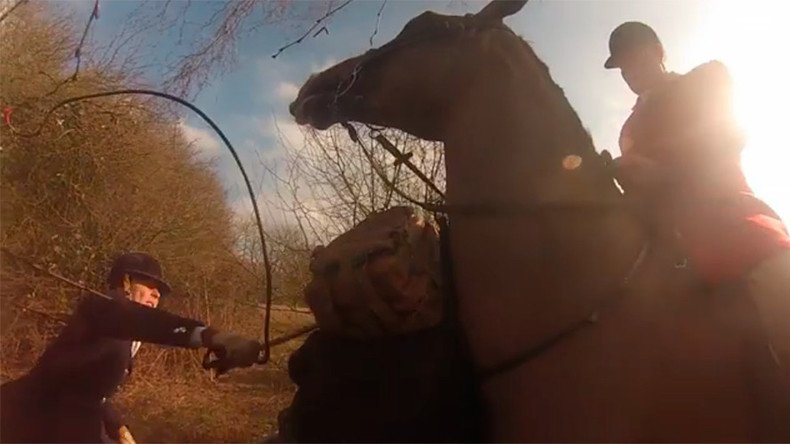 Princess Eugenie's godmother has been reported to police after footage emerged on social media of her apparently whipping a foxhunt protester with a riding crop.
Lulu Hutley, who is the joint master of the Surrey Union Hunt, got into a heated argument when activists attempted to stop a hunt on Slades Farm, Guildford, last week.
In a video posted by the Guildford Hunt Saboteurs on Facebook, Hutley is seen telling campaigners that she will call the police if they do not leave the private land.
When some of the 'sabs' insist on climbing over a gate, bringing them closer to Hutley and her horse, the socialite appears to hit a man with her riding crop.
"The hunt claimed today was a 'fun day' as Princess Eugenie was apparently in attendance but that clearly wasn't the case," Guildford Hunt Saboteurs wrote on their Facebook page on Sunday.
"While the hunt looped around a few times in an attempt to lose us, sabs tried to get to the nearest road and were rammed against a fence and then struck with a whip by Lulu Hutley (whom is the godmother of Princess Eugenie - The Lairy Godmother)."
The group added that animal rights campaigners had followed the hunting party into private property because they suspected an illegal hunt was taking place as they could hear hounds "in cry" after a fox.
"The saboteurs followed them on private ground because they suspected they were illegally hunting," Guilford Hunt Saboteurs spokesman Collin Skilton told the Mirror.
"They were asked to leave and they tried to make their way back. [Conor Macleod], the lad who was hit, got jammed between the fence and Hutley hit him over the shoulder with the whip."
"The hunt had no trail layer present that day but still had terrier men which proves to us that their intent was to illegally hunt," Macleod told the Surrey Advertiser.
But Surrey Union Hunt said the video was taken out of context and that the sabs were intimidating, as some of the men involved were wearing masks.
"You can clearly see Lulu is holding the whip upside-down in order to hit the gate, not the person," said a spokesman for the hunting club.
"She saw the protester was trapped between the horse and the gate and was trying to make a noise by banging on the gate to get the horse to back off. It was quick thinking by one of our masters in a dangerous situation and it's terribly sad it's being misrepresented.
"As always, we were following an artificial scent trail, and indeed the protesters would have seen this being laid down by a rider earlier."
The socialite, whose maiden name is Blacker, is a close friend of the Duchess of York, Sarah Ferguson. She married property mogul Edward Hutley in a big society wedding in 1991, at which the Queen's granddaughter Princess Eugenie served as a bridesmaid.
Surrey Police confirmed it was investigating a report of common assault but that no arrests had been made.
"Officers were called following reports of an incident near Thorncombe Street around 1.30pm. A man alleged he was assaulted by a man and a woman following a verbal altercation," a spokeswoman said.
"An investigation is underway and enquiries remain ongoing."
Fox hunting was made illegal in Britain in 2004 but artificial laid trails are allowed. In 2013 there were 179 active hunting clubs in England alone.
You can share this story on social media: