Police deny link between Brexit & surging hate crime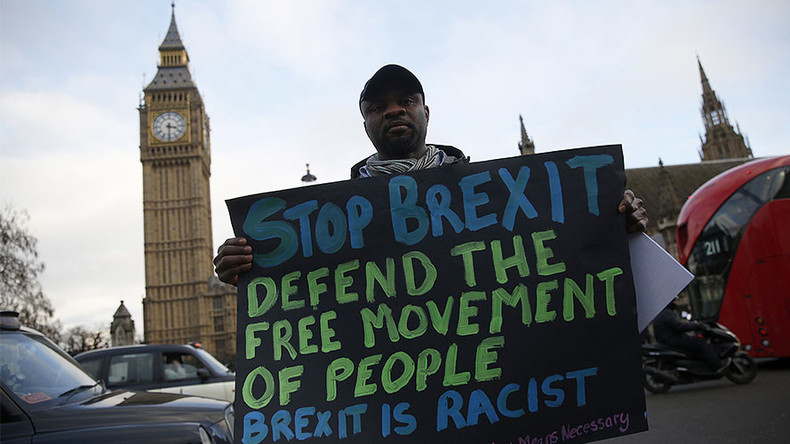 There is "no evidence" indicating that there is a link between Britain's vote to leave the EU and the current spike in hate crime, police say.
The majority of Britain's police forces reported a higher number of hate crime incidents in the three months that followed the Brexit vote than in any quarter since 2012.
According to the Home Office, the month of July 2016 saw a 41 percent spike in hate crimes.
However, Essex Police says 33 of the country's 42 police forces saw the highest number of reports on record due to greater awareness and confidence in officers.
"There is no evidence to suggest any increase has been specifically and directly caused by any one event or issue," a spokesperson for the force told Echo News, a local Essex paper.
"There has been an increase in reports of alleged hate crime across Essex, which mirrors a national trend.
"Hate crime is significantly underreported, and we believe that greater awareness and confidence in the police response has contributed to these increases in reporting.
"Whether it's an incident that takes place online or in the street, it's important to let us know about hate crime to give us a chance to investigate and prosecute offenders and to ensure that victims and the wider community are protected.
"We can't deal with the problem unless it is reported to us," they said.
In Essex, 376 incidents of hate crime were reported between July and September.
Hate crimes are defined as any offence that is racially or religiously aggravated. Crimes motivated by a person's disability, ethnicity, gender, or sexual orientation are also included.
The August murder of a Polish factory worker named Arek Jozwik in the Essex town of Harlow shocked Britain. He and his friend were allegedly attacked by a group of teens outside a pizza restaurant because they were heard speaking Polish.
Jozwik died from head injuries, while his friend was badly hurt.
Hours after a public vigil was held for Jozwik, two other Polish men in their 30s were attacked by a group of men next to a pub in Essex.
Other instances of post-Brexit hate crimes have been widely reported in the media.
In August, a woman doing her shopping at a local supermarket in Milton Keynes miscarried after being kicked in the torso by a man who approached her shouting racist insults.
You can share this story on social media: