BBC impartiality questioned over map of Israel which erased Gaza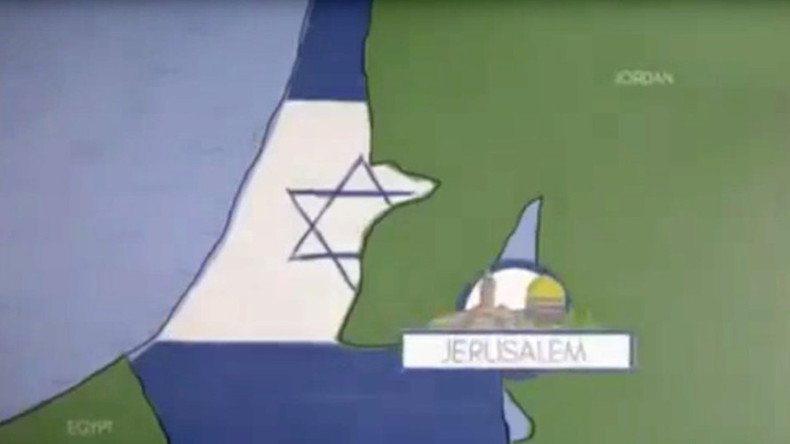 The BBC has come under fire for using a map that depicted Jerusalem as a part of Israel, the West Bank annexed to Jordan, and the Gaza Strip erased altogether.
The map was featured in an episode of BBC 2's cooking show 'Two Hairy Bikers' that aired last October.
In the episode, the motorcycling hosts visited Israel and Jerusalem, where they explored the local cuisine, particularly chicken and egg recipes. Most controversially, the show described traditional Arab and North African dishes, including shawarma and shakshuka, as "Israeli."
The map, which was supposed to show the route taken by the bikers, showed the whole of Jerusalem as well as the Gaza Strip as being a part of Israel with the nation's flag stamped over the entire territory.
In fact, Gaza remains under the control of the Palestinian National Authority, while the status of Eastern Jerusalem is highly contested by all parties involved in the Israeli-Palestinian conflict.
Elizabeth Morley told Electronic Intifada that she has been leading the fight against the misrepresentation, with the BBC reportedly initially responding to her complaints by saying a cookery show should not be expected to feature a detailed political account of the Arab-Israeli struggle.
Morley's repeated complaints that the channel breached its own editorial guidelines, however, were reportedly only recognized by the BBC four months after the episode aired.
This is not the first time the BBC has been accused of airing controversial Israeli maps in its programs.
In December 2010, hit show 'Top Gear' broadcast a similar map showing the West Bank and Gaza as part of Israeli territory, despite the hosts actually traveling to the city of Bethlehem, which is in the West Bank.
That time, the BBC Editorial Standards Committee dismissed the complaints by pro-Palestinian activists on the grounds that 'Top Gear' is an entertainment, not a political, program.
You can share this story on social media: