Theresa May ignores 1.8mn Brits who want Trump state visit blocked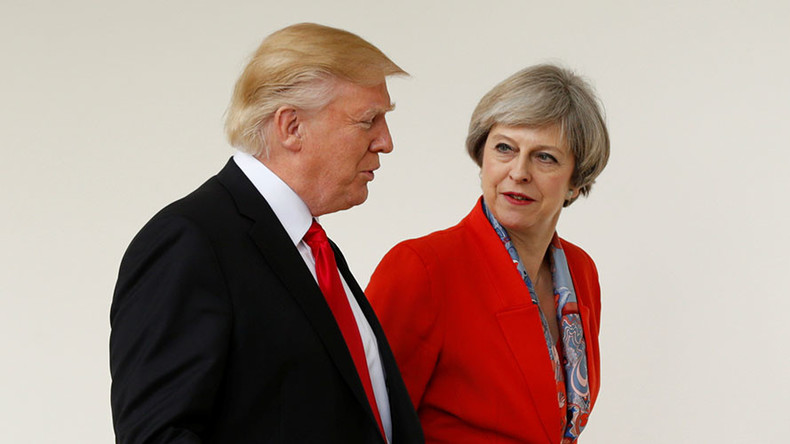 British Prime Minister Theresa May has formally rejected a petition calling for US President Donald Trump to be banned from making an official state visit to the UK because it would cause an "embarrassment to Her Majesty the Queen."
Responding on Parliament's official website, the government said it will not withdraw its invitation to the US president despite the petition gaining almost 2 million signatures.
In a statement, the Foreign Office said although it understands the signatories' "strong views," it would still extend "the full courtesy of a State Visit" to Trump.
"HM Government believes the President of the United States should be extended the full courtesy of a State Visit. We look forward to welcoming President Trump once dates and arrangements are finalized."
The PM extended her invitation to Trump while on her first official visit to the White House in January.
"The invitation was accepted. This invitation reflects the importance of the relationship between the United States of America and the United Kingdom. At this stage, final dates have not yet been agreed for the State Visit," the statement said.
Despite the government's rejection, the petition will still be debated in Parliament on February 20, along with a counter petition which garnered 309,000 signatures.
While details of the state visit venue are still to be confirmed, the government could relocate events from London to Birmingham, Brexit's heartland, where it is hoped there will be a more welcoming atmosphere.
However, politicians and activists from the Stop Trump Coalition, a cross-party initiative against Trump's controversial views, have already said they will oppose the visit wherever it is held.
Author and Guardian columnist Owen Jones, one of the founders of the coalition, said: "Donald Trump's state visit will be marked by the biggest protest against racism and hatred in our country's history.
"It doesn't matter where he goes. We will march in our millions against him, and our government's collusion, in every town and city in Britain."
On Sunday, House of Commons leader David Lidington said "no venue" had been set for the visit however, and that the US and UK were still discussing arrangements.
The petition was launched in response to Trump's executive order banning immigrants and refugees from seven mainly-Muslim countries from entering the US.
While May expressed opposition to the order, dubbed the 'Muslim ban,' she still faced a backlash for failing to challenge the president on his policies.
Labour Party leader Jeremy Corbyn has said Trump should be barred from coming to the UK if the 'Muslim ban' is not lifted.
You can share this story on social media: