Mass bar brawl involving 100 people caught on camera (VIDEO)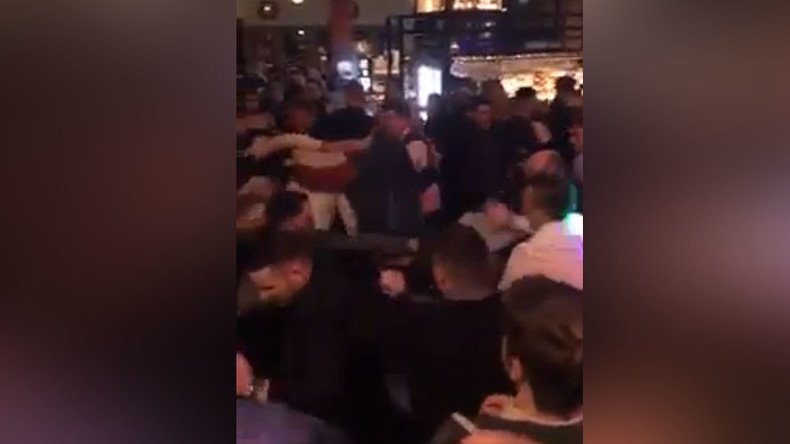 Footage has emerged of a mass brawl in a Wiltshire pub in the early hours of Sunday morning. More than 100 punters are thought to have joined in the melee.
Dozens of men were filmed kicking and punching each other at the Wetherspoon pub in Trowbridge, southwest England, as music played in the background.
A police officer was reportedly struck in the face but avoided serious injury, while one person has since been charged with possession of a knife.
A video of the brawl was uploaded to Facebook by truck driver Tommy Arkle, who captioned the clip: "Last night got way out of hand." It has been viewed more than half a million times.
Arkle, who spoke to the Mirror, said: "There was a group of lads, who had obviously had a bit to drink. It started as two people on one and then suddenly escalated into almost everyone in the bar.
"I was walking back from the bar with a pint in my hand when I heard a load of shouting and looked around. Then I just saw everyone fighting, I didn't even have time to think about it.
"One of my best mates was bottled, he wasn't even involved in the fight. Somehow he ended up getting caught up in it all on his way back from the bar.
"There was a lot of blood, and a big wound on the top of his forehead. Someone called for an ambulance, which arrived pretty quickly and he was taken to A&E at the Royal United Hospital. He's OK now, though."
Arkle went on to say: "I've never seen anything like it. I mean, I've seen fights happen in pubs on a night out, but this was something else.
"Both men and women were involved."
Wiltshire police officers are now appealing for witnesses to come forward with information about the incident.
You can share this story on social media: