House of Commons speaker stands by 'Trump not welcome' comments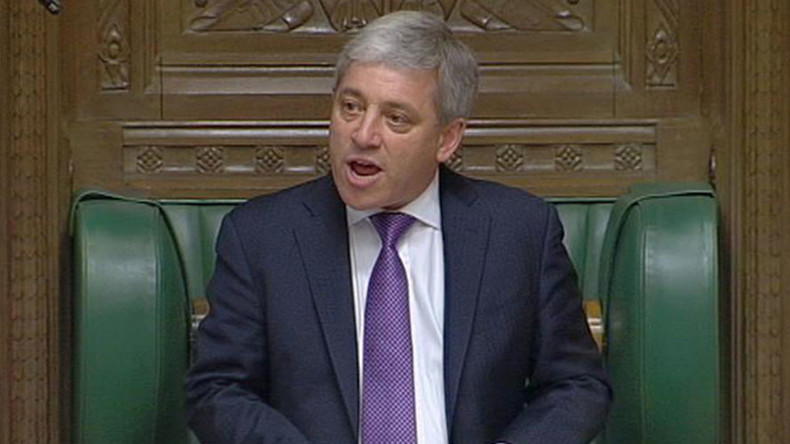 House of Commons Speaker John Bercow has defended voicing his opposition to US President Donald Trump addressing Parliament during a state visit.
On Monday, Bercow told MPs Trump will not be welcome to address Parliament on his state visit to the UK because of its opposition to racism and sexism.
In a major snub to the American president, Bercow said he was "strongly opposed" to Trump speaking in the Commons as he stressed that being invited to address parliament was "not an automatic right" but an "earned honor."
"Before the imposition of the migrant ban I would myself have been strongly opposed to an address by President Trump in Westminster Hall. After the imposition of the migrant ban by President Trump I am even more strongly opposed to an address by President Trump in Westminster Hall."
Several MPs have criticized Bercow. One said his career could be in jeopardy while others said he had not worked in the national interest, nor been impartial.
Questioned about his comments by MPs on Tuesday, Bercow said: "The House has always understood that the chair has a role in these matters."
"I was honestly and honorably seeking to discharge my responsibilities in the House."
He then said it was "time to move on to other matters."
US Congressman Joe Wilson said it was a "slap" to Trump's Republican Party. He said the interjection was "very disappointing."
Iraqi-born Tory MP Nadhim Zahawi, who sharply criticized Trump's travel ban after learning he would be caught up in it, has suggested Bercow is a hypocrite.
He told the BBC Bercow had invited Chinese President Xi Jinping despite MPs being unhappy about his policy on Tibet, and the emir of Kuwait, which bans British dual nationals of Israeli origin from speaking in its parliament.
Bercow should "think about" his position and explain his remarks to parliament, Zahawi says.
Crispin Blunt, the Conservative MP who chairs the Commons Foreign Affairs Select Committee, said Bercow was going to have to deal with "the consequences" of his comments.
He said there were "strongly held views on both sides of the argument" but added, "Generally the speaker, who's meant to referee all of this, should keep himself above that."
One unnamed Tory MP and former cabinet minister reportedly told the BBC that Bercow "must be close to standing down," while another said his comments had gone "way beyond what is acceptable."
Another called it an embarrassment to the Commons.
But Labour leader Jeremy Corbyn says he unequivocally supports Bercow's statement.
"The speaker speaks for parliament. He is elected by all members of the House, he is therefore independent. He has authority over Westminster Hall and that aspect of state visits," he told the BBC.
"I think he has spoken absolutely clearly [about] Donald Trump, and his misogyny and racism and his behavior on international law, particularly on the convention on refugees," he added.
"I think he is absolutely right and I welcome the statement."
The BBC Newsnight program is also under fire for its "lack of impartiality" after it described Bercow's comments as "magisterial." It also set Bercow's speech to the soundtrack of the patriotic hymn 'Jerusalem'.
"He was asked about the prospect of Donald Trump addressing parliament during his upcoming state visit. The Speaker's response was typically magisterial," presenter Naga Munchetty said.
Some MPs vow to boycott Trump's speech
Bercow is one of the three "key holders" to Westminster Hall, along with the Speaker of the House of Lords, Lord Fowler, and the Lord Great Chamberlain, a hereditary peer in charge of certain parts of the Palace of Westminster.
All three must agree in order for an address to take place. Lords Fowler will address peers on the issue on Tuesday.
Whether or not Trump should address the UK parliament has been a source of heated debate.
The British government is reportedly wary of inviting Trump to speak because of the likelihood that a great number of MPs would boycott the event, leaving the room half empty. Moreover, protests outside Parliament could drown out any speech.
Prime Minister Theresa May's informal invitation to Trump has triggered a backlash that has seen more than 1.8 million people signing a petition urging the government to cancel the visit.
Meanwhile, a petition calling for Trump's visit to go ahead has attracted around 300,000 names.
A motion proposed by Labour MP Stephen Doughty in the Commons that calls on its authorities to ban Trump from speaking in Parliament has attracted the signatures of 165 MPs from Labour, the SNP, the SDLP and the Greens.
A group of Labour's most senior women have also vowed to stage a "no show" in Westminster if the US president is invited to speak.
You can share this story on social media: