Bong sellers prosecuted in London's punk mecca Camden Town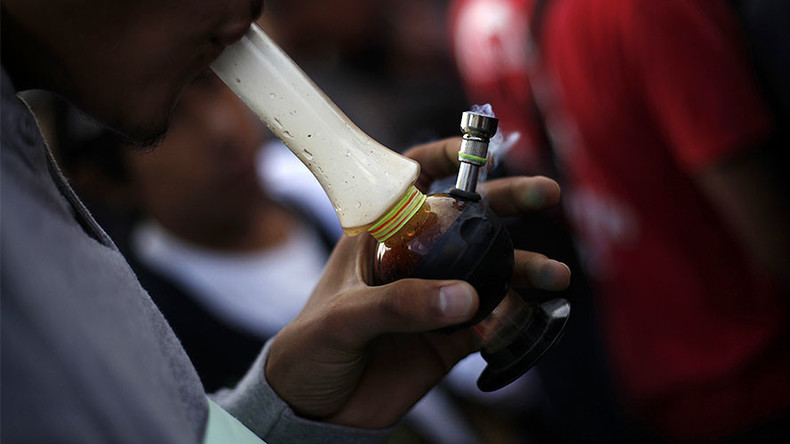 Camden Town was once known for its wild rock and punk scene. Now police are clamping down on market traders selling drug paraphernalia after successfully prosecuting a shopkeeper.
Ramalar Munjal pleaded guilty to supplying items that could be used to smoke cannabis, including glass bongs and king-size Rizla papers, from his souvenir stall on Camden High Street.
Munjal, 55, also pleaded guilty to a second count of supplying scales, grinders and 'self-seal snap bags' that could also be used to prepare cannabis, according to the Camden New Journal.
Highbury Magistrates court handed down a conditional discharge, the first conviction since the authorities announced a crackdown on what had been a well-established trade in the area.
The Metropolitan Police vowed to make Camden a 'no bong zone' last October as part of a Safer Neighbourhoods community campaign which banned drug-related devices such as bongs.
In a letter sent to shops at the time, police wrote: "We have repeatedly tried to tackle drug dealing in and around Camden Lock, and have made a large number of arrests and convictions.
"However, the drug dealers are shortly replaced by more drug dealers. This endless tide is due to the location's notoriety for being a place to come and buy drugs. Some refer to it as 'London's Amsterdam'. As such we need to create a cultural change in the public's mentality about the Camden Lock area."
According to the Camden New Journal, police said market stalls selling cannabis bongs created a culture of "tacit acceptance."
Munjal's solicitor, Arnita Bhudia, told the court her client worked at the market stall "three times a week, only to try to earn a living. There is no political message. It's only to try to earn a living to support his family."
The court heard he is now unemployed and receiving jobseeker's allowance.
Prosecutor Alison Armour said police raided Munjal's stall on November 8 last year and seized thousands of items, including 151 bongs, 305 pipes, 1,084 lighters 792 packets of king-size Rizlas and 73 grinders.
Last October Vice UK reported that the decision to target bong sellers in Camden was "odd," considering the crime statistics for Camden.
While the borough has the highest rate of drug-related deaths in London, "the type of 'drug culture' the police are targeting isn't lethal," the website wrote.
Camden has also experienced surges in other types of crime, such as a doubling in reports of racially-motivated hate crimes over the previous year, Vice reported.
You can share this story on social media: