Genetically-modified wheat to be grown in Britain despite environmentalist opposition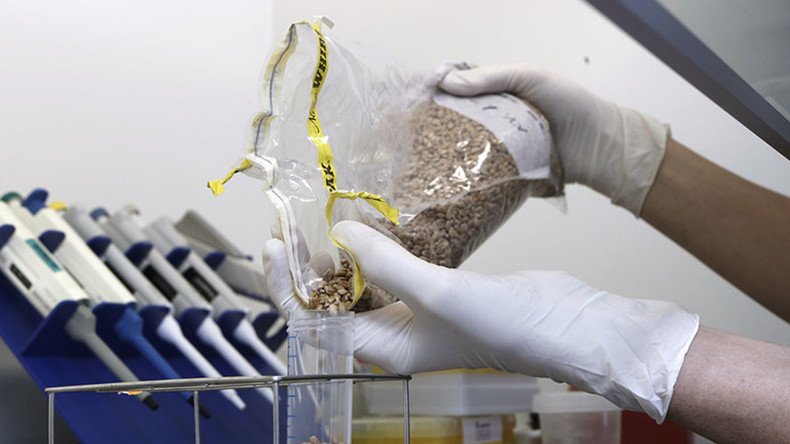 The British government has given the green light for a new experimental crop of genetically-modified (GM) wheat to be grown, despite strong opposition from around 30 green groups.
Researchers in Hertfordshire will test out the new GM wheat, which has been genetically engineered to use sunlight more efficiently and has reportedly boosted yields by up to 40 percent.
However, critics argue GM is not the solution to global food shortages, which can be solved by addressing systemic issues such as food waste and poverty.
So far, the GM wheat crop in question has only been tested in the greenhouse, where it delivered increased yields of 20 to 40 percent.
Scientists at Rothamsted Research, one of oldest agricultural research institutions in the world, applied to the Department of the Environment, Food and Rural Affairs (Defra) last autumn for permission to conduct trials at a small field near Harpenden.
The application was granted after an independent risk assessment and public consultation, and the trials are due to take place between 2017 and 2019.
"It makes the plant bigger in the greenhouse, it makes the leaves grow bigger, and that's because you have more of this photosynthesis going on," Rothamsted's Head of Plant Biology and Crop Science, Dr. Malcolm Hawkesford, told the BBC.
"Once you start to produce grain all of that CO2 fixation starts to get targeted into the production of more grain. You end with bigger plants and more grain."
Proponents of GM often point to global food shortages and the growing population of the world as justifications for the technology.
But environmental campaigners disagree and around 30 organizations lodged objections to Rothamsted's plan, expressing concerns the GM wheat could escape into the wild, as has already happened in the US.
"People aren't starving because photosynthesis isn't efficient enough; people are starving because they are poor," said Liz O'Neill from GM Freeze.
"Techno-fixes like GM wheat suck up public funding that could make a real difference if it was spent on systemic solutions like waste reduction and poverty eradication. Then we could all enjoy food that is produced responsibly, fairly and sustainably."
You can share this story on social media: