Farage brands London mayor 'hypocrite' for hosting diplomats from nations banning Israelis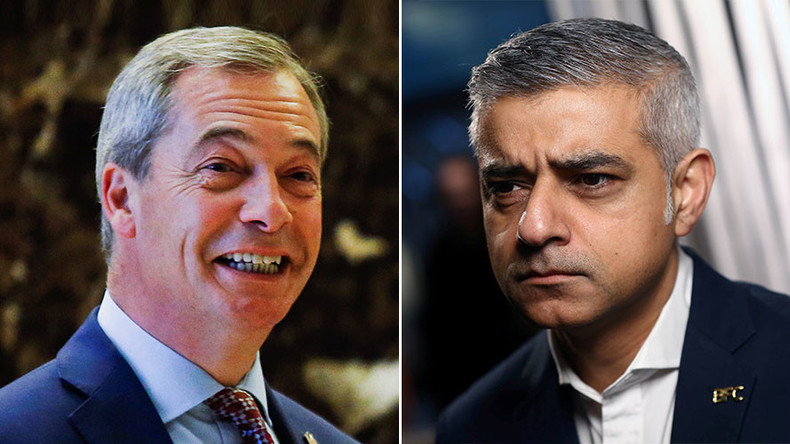 Ex-UKIP chief Nigel Farage has accused London Mayor Sadiq Khan of hypocrisy for attacking US President Donald Trump's travel ban while inviting ambassadors from countries which refuse entry to Israeli citizens.
At a meeting in City Hall on Tuesday night, Khan condemned Trump's so-called 'Muslim ban' for being a "cruel, prejudiced and counterproductive" policy.
Also present at the reception were diplomatic representatives from Bangladesh, Brunei, Iran, Iraq, Kuwait, Lebanon, Libya, Pakistan, Sudan, United Arab Emirates and Yemen – none of which allow entry to Israelis.
Farage took to Twitter to call the London mayor a hypocrite.
He was even retweeted by former Justice Secretary Michael Gove.
The Evening Standard reports Khan was due to make a speech about how the UK had a "responsibility to show moral leadership."
"You don't need me to tell you that there's no contradiction between subscribing to Western values – of human rights, democracy, the rule of law and freedom of speech – and being a Muslim.
"Nor do you need me to tell you that targeting people for no reason other than their faith or their country of birth is cruel, prejudiced and counterproductive."
Earlier on Tuesday the London mayor called on Trump to rethink his decision to implement a travel ban on people from seven Muslim-majority nations, including war-torn Syria, the Daily Mail reports.
"As close friends of America, as somebody who boasts of having a special relationship, we shouldn't be scared of saying boo to a goose. We should say to our close friends, 'You've got this wrong.'
"While the ban is in place we should not be rolling out the red carpet, we should not be having a state visit and the offer of a state visit should be rescinded.
"I've heard the views of Londoners loudly and clearly over the last few days ... The government should take heed."
Sixteen countries around the world maintain a ban on Israeli nationals and some even turn away people who have visited Israel and have a stamp in their passport.
LSE professor and Middle East expert Fawaz A Gerges told the Independent that comparisons between America and Arab-Israeli relations "fly in the face of reality."
"Trump's ban is a Muslim ban, based on religious discrimination and racial discrimination. The relationship between Israel and its Arab neighbors is one of war since 1947 – for the last 70 years. By trying to force comparison, it just flies in the face of reality, it's apples and oranges, sky and sea," he said.
"The boycott of Israel by Arab nations is a completely different thing. The Arab world offered Israel a kind of a deal – a Palestinian state in return for normalized political relations. But we are not talking about these small warring states, we are talking about the leader of the free world, the defender of human rights. What Trump has done has undermined America as a moral voice in the world."
You can share this story on social media: