Broke Royal Navy gets hefty bill for escorting Russian fleet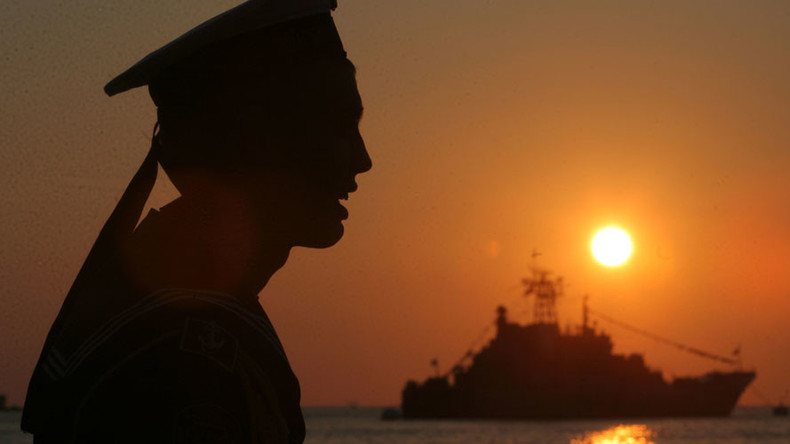 A Royal Navy operation to monitor a Russian fleet of warships as it sailed through the English Channel last year cost taxpayers £1.4 million ($1.76 million).
The 'Admiral Kuznetsov,' a Soviet-era aircraft carrier that can carry more than 50 planes, passed by the coast of southeast England along with seven other vessels last October.
A Royal Navy destroyer and frigate were scrambled in response and escorted the fleet as it sailed en route to Syria, despite the service facing a budget shortfall of £500 million.
Figures obtained by Portsmouth News through a Freedom of Information (FoI) request reveal the operation cost British taxpayers £1,394,000, including man hours and fuel.
The Royal Navy deployed the Type 45 destroyer 'HMS Duncan' from Portsmouth to mark the Kuznetsov group and the Type 23 frigate 'HMS Richmond' from Norwegian seas to escort the fleet as it made its way south.
Locals and media gathered in Dover to watch the fleet pass by into the English Channel.
"It's being marked every step of the way by the Royal Navy and ships and planes of other NATO members as well," Defence Secretary Michael Fallon said in a statement at the time.
The 'Admiral Kuznetsov' was commissioned in 1990 and is presently Russia's only aircraft carrier. Manned by a crew of 1,960, it has Granit anti-ship cruise missiles as well as Blade and Chestnut gun systems in its arsenal.
Royal Navy finances are in dire straits this quarter after the Ministry of Defence (MoD) ordered patrol vessels it did not need.
The five ships ordered from BAE Systems have created a £500 million black hole in the navy's budget, according to the Times.
Now the MoD must find £500 million worth of savings over the next two months, or else it will be forced to ask the Joint Force Command to bail it out.
The navy is reportedly considering its options, which include reducing the size of the Royal Marines, asking the army to pay for jobs such as guarding naval sites performed by marines, and even mothballing one of two new aircraft carriers.
You can share this story on social media: