'Establishment delaying Brexit': #Article50 ruling divides internet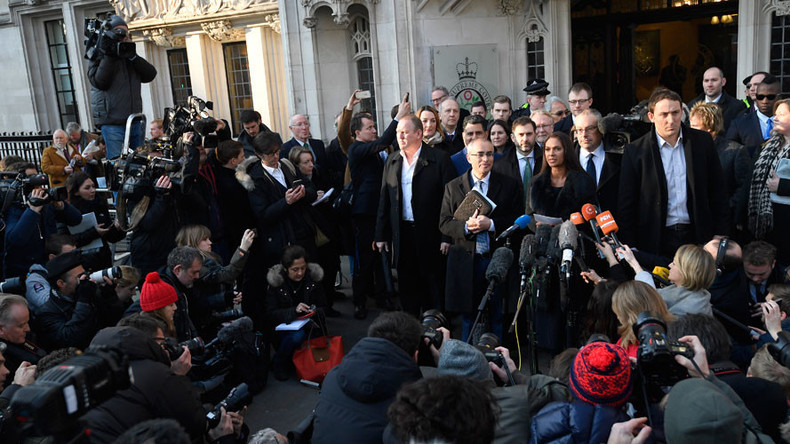 Britain's Supreme Court ruling on how Theresa May's government can trigger formal divorce talks from the EU received a mixed greeting online, with some commentators calling for MPs to delay and amend the Brexit process.
The ruling states that the British government must gain parliamentary approval before starting the process to exit the EU, scuppering Prime Minister May's plans to bypass the legislature when invoking Article 50 by the end of March.
"So much for the UK Gov claims that Scotland is an equal partner in the Union," MP Owen Thompson tweeted on the decision that would see the devolved assemblies of the UK absent from the vote.
"'Victory for democracy.' Is that what you call it when #England gets to make decisions for #Scotland, #NorthernIreland & #Wales? #Article50" another tweet read criticizing the decision that will see only the House of Commons vote on Article 50.
Labour Leader Jeremy Corbyn tweeted after the decision that his party "respects the result of the referendum and the will of the British people and will not frustrate the process for invoking Article 50," adding that his party will seek amendments to prevent "the Conservatives using Brexit to turn Britain into a bargain basement tax haven."
The decision looks set to further delay the process of Britain leaving the EU as amendments are debated by MPs. The Scottish National Party (SNP) plan to table 50 "serious and substantive" amendments to the article.
"The establishment are trying to delay the Brexit process. People are getting angry about it." UKIP leader Nigel Farage tweeted.
His sentiments were echoed by others frustrated at further delays to the exit for which they campaigned.
"But MPs have a mandate provided by their constituency. So by this logic, all London MPs should vote against Article 50?" one tweet asked.
"If you voted Brexit – keep a very close eye on your MP and how they vote." Independent MP Steven Woolfe warned.
READ MORE: Theresa May cannot trigger Brexit without parliamentary permission, UK Supreme Court rules
WATCH MORE:
You can share this story on social media: