US asked UK to keep failed nuke Trident test secret – report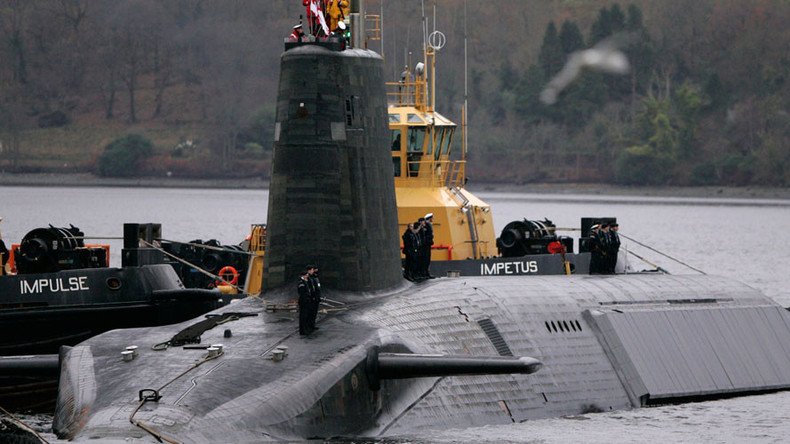 The US government allegedly asked Britain to keep its failed Trident missile test in June 2016 a secret, the Sunday Times claims. The missile, fired from a nuclear submarine off Florida, malfunctioned and veered towards mainland US during a routine test.
"It was the [then-President Barack] Obama administration that asked the [then-UK Prime Minister David] Cameron administration not to comment on this," a source told the paper.
According to the source, the US administration "may have been worried that there could be similar problems on other missiles."
"The British submarine successfully carried and launched the missile; the bit that went wrong was the US proprietary technology," it added.
Responding to questions from Labour and Scottish National Party (SNP) MPs in the House of Commons on Monday, Defence Secretary Michael Fallon repeatedly cited national security concerns to justify his strenuous denials.

While the UK maintains it has operational control of Trident aboard its four nuclear submarines, the missiles are owned by the US and are largely reliant on the Americans for technical support.

The US is likely to have been highly resistant to the idea of sharing news of the defect because Britain's D5 missiles are leased from the same stockpile used by the US military.

The emergency debate on Monday, called by former Labour defense minister Kevan Jones, saw the SNP and some Labour figures launch an offensive over the misfire and apparent cover-up.

In a bizarre twist, MPs pointed out during the debate that while Fallon was refusing to disclose details of the misfire, US officials were openly briefing the American media about the incident.

While the SNP wants nukes removed from Scotland, Labour is split on the issue, with the upper echelons of the party leadership generally opposed to nuclear weapons, while many in the parliamentary party support renewing them.

Both Fallon and Prime Minister Theresa May have issued strenuous denials over the incident. Some attempts have also been made to push blame onto May's predecessor, David Cameron.

Much of the antagonism centers on how much May knew about the incident before a vital vote on Trident renewal only weeks after the misfire. She confirmed on Monday night that she did know about the incident but failed to disclose the information.
WATCH MORE:
You can share this story on social media: