Boris Johnson compares French president to Nazi guard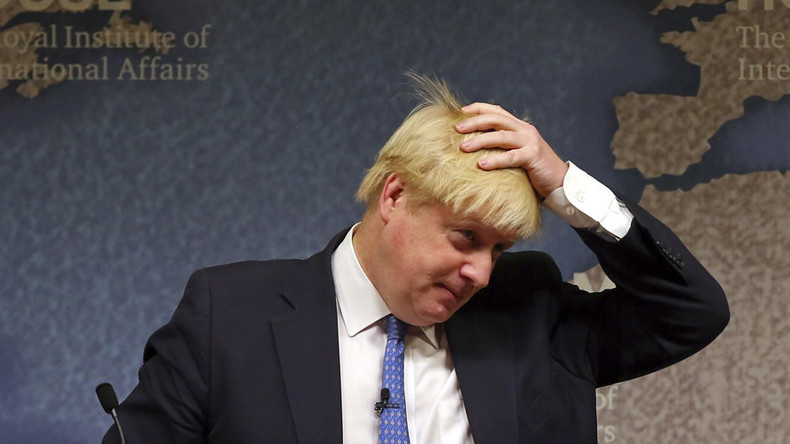 UK Foreign Secretary Boris Johnson has come under fire for comparing the French president to a Nazi prison guard giving 'punishment beatings' to Britain for trying to 'escape' the EU.
Speaking in India, Johnson appeared to liken Francois Hollande to a World War II German soldier, in a move which is likely to further alienate France ahead of Brexit negotiations.
"If Mr. Hollande wants to administer punishment beatings to anybody who seeks to escape [the EU], in the manner of some World War II movie, I don't think that is the way forward, and it's not in the interests of our friends and partners," the foreign secretary said as quoted by the Independent.
No10 on Boris: "he was making a theatrical comparison to some of those evocative WW2 movies"

— Paul Waugh (@paulwaugh) January 18, 2017
"It seems absolutely incredible to me that, in the 21st century, member states of the EU should be seriously contemplating the reintroduction of tariffs or whatever to administer punishment to the UK."
MPs across the political spectrum criticized Johnson for the remarks, which were branded "distasteful" by some.
"Given that we and the French were on the same side in World War II and remain allies in NATO, he could have used a better choice of language to make a reasonable point," said fellow Conservative MP Bob Neill, secretary of the all-party parliamentary group on France, the paper reported.
Prime Ministers Official Spokeswoman; "He (the Foreign Secretary) was in no way suggesting anyone was a Nazi." #awkward

— Carl Dinnen (@carldinnen) January 18, 2017
Former Labour Defence Minister Kevan Jones said, "This is the usual Boris tactless, foot-in-mouth quote that is completely inappropriate.
"It undermines [Prime Minister] Theresa May's reaching out to European allies yesterday," the Independent quoted him as saying.
Liberal Democrat leader Tim Farron also weighed in.
"This is an utterly distasteful comment Boris is our chief diplomat, how can he say such things? It's crass and he is clueless," he said.
"I understand Boris loves a World War II analogy and likens himself to Churchill. But one was the greatest ever Britain, a war leader, and the other is Boris, who goes round the world as foreign secretary apologizing to all the nations he has offended over the years," the newspaper reported him as saying.
Former London Mayor Ken Livingstone, who was severely criticized in the past for comparing a Jewish reporter to a Nazi guard, said he suspects "Boris will be allowed to get away with it."
A Downing Street spokeswoman said Johnson's comments have been misinterpreted.
She said he was "not in any way suggesting anyone was a Nazi," according to the BBC, adding that "at no time did he use the word Nazi and I don't accept the interpretation of his comments."
She went on to say the Foreign Secretary was making a "theatrical comparison" to evocative World War II movies.
Johnson is touring India in a bid to drum up future trade deals after Britain leaves the EU.
You can share this story on social media: