Conflict of interest? Theresa May urged to come clean on investments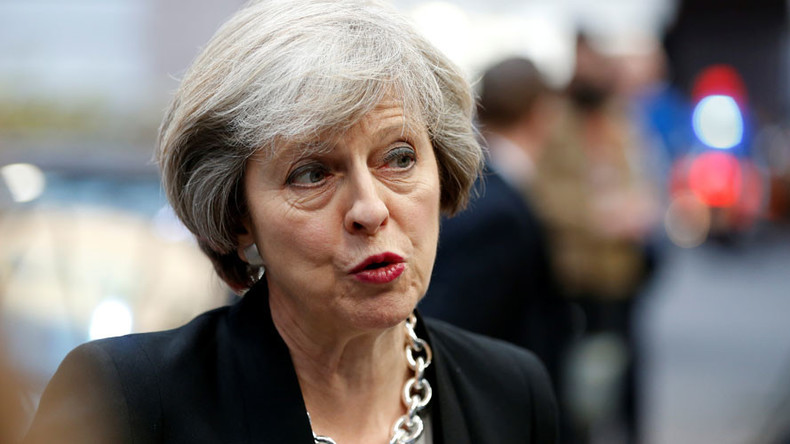 UK Prime Minister Theresa May is facing calls to reveal her financial interests after it emerged she set up a blind trust of shares when she became prime minister, thought to be worth up to £145,000 ($175,000).
Such a trust, which allows May to keep investments while relinquishing management of them, was revealed in a recent Cabinet Office list of ministerial interests.
A blind trust is controlled by a third party, meaning May will not know when shares are traded and replaced while she is in power.
Opposition MPs say there is a potential conflict of interest, because May would know what her investments were when the trust was created, the Times reports.
Labour and the Liberal Democrats called on May to disclose the contents of the trust, saying she should have nothing to hide.
But Downing Street refused to reveal what shareholdings had been placed into the trust, or who the third party overseeing it is.
"Blind trusts are a well-established mechanism for protecting ministers in the handling of their interests, as they are not involved in any decisions on the management, acquisition or disposal of the items in the trust," a spokesperson said.
"[May] set it up when she became prime minister."
May did not have a blind trust during her time as home secretary. When asked why, the spokesperson said: "The prime minister has a far wider set of public duties than the home secretary."
Last summer, May revealed she had received £5,419 in dividends in 2014-15, a return that suggests the amount invested in her blind trust could run into six figures.
The Telegraph reports the blind trust could be worth up to £145,000.
Blind trusts are a relatively common way for ministers to retain their investments while in office.
Former Prime Minister Tony Blair was heavily criticized by the Tories for using a blind trust to fund his office in opposition.
Former PM David Cameron sold all his shares in June 2010 and did not have a blind trust when he was prime minister. However, blind trusts were used by many of his ministers, with at least 16 senior politicians keeping their interests in such schemes in 2011.
Labour shadow cabinet minister Andrew Gwynne has called on May to disclose what she put into the blind trust in the interests of transparency.
Gwynne said if May has "nothing to hide," she needs to reveal her "existing financial interests."
"In not being able to scrutinise the prime minister's financial affairs it's not possible to know if they present a conflict of interest with her government responsibilities."
"The British people deserve full and proper transparency so they can make their own minds up on whether their politicians are acting in the nation's interest, rather than their own."
Liberal Democrat leader Tim Farron echoed this sentiment, saying: "I'm sure the prime minister has nothing to hide but the public has a legitimate interest in what companies she invested in and who runs the trust.
"Theresa May promised the most transparent government in the world. This is an early test to see if her deeds match her words."
You can share this story on social media: