University of London students demand 'white philosophers' like Plato, Kant be removed from syllabus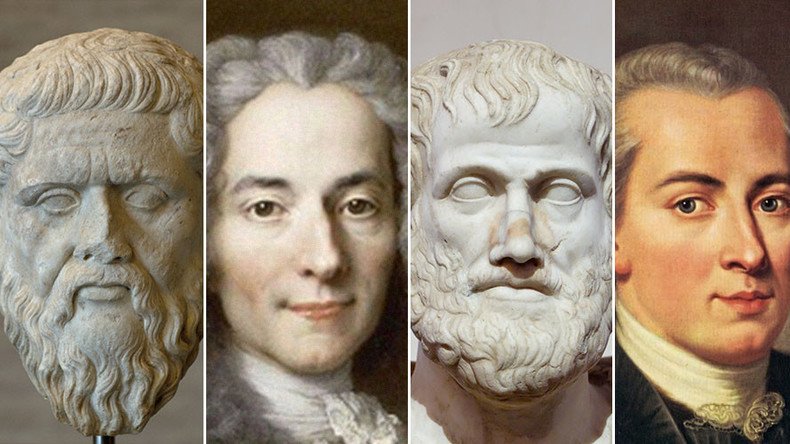 University of London students are demanding that thinkers such as Plato, Aristotle, Voltaire, and Immanuel Kant be banned from the philosophy syllabus... because they are white.
UK media quotes students from the University of London's School of Oriental and African Studies (SOAS) as saying that "the majority of philosophers on our courses" should be from Africa and Asia.
A statement from the students' union added that banning white philosophers should be part of a wider campaign to "decolonize" the university and "address the structural and epistemological legacy of colonialism."
"White philosophers" should be on the syllabus only "if required," and their work should be studied from a "critical standpoint," the statement said, as cited by British media.
"For example, acknowledging the colonial context in which so-called 'Enlightenment' philosophers wrote within," it elaborated.
Many scholars have been outraged by the demand, warning that the situation could spiral out of control.
"You can't rule out a whole area of intellectual endeavor without having investigated it, and clearly they haven't investigated what they mean by white philosophy," Sir Roger Scruton told The Daily Mail.
"If they think there is a colonial context from which Kant's Critique of Pure Reason arose, I would like to hear it," he added.
The vice-chancellor of Buckingham University, Sir Anthony Seldon, told The Daily Mail that it looks like "a real danger" of "political correctness getting out of control."
Opinions within the university are also divided, however. The head of SOAS's Religions and Philosophies department, Erica Hunter, was surprised by the students' statement, calling it "rather ridiculous."
"I would firmly resist dropping philosophers or historians just because it was fashionable," she added, as cited by The Telegraph.
However, Pro-Director (Learning and Teaching) Dr. Deborah Johnston sees the students' initiative to question the syllabus as positive, explaining that "informed and critical debate and discussion about the curriculum we teach" is "a healthy and proper part of the academic enterprise."
You can share this story on social media: