Brits travelling to Syria to fight ISIS should not be treated as terrorists, says foreign fighter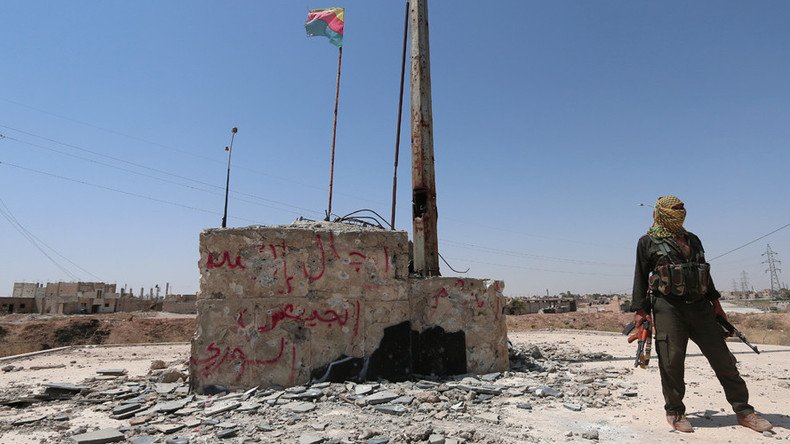 A British man, who has twice travelled to northern Syria to fight against Islamic State (IS, formerly ISIS/ISIL) alongside the Kurdish YPG militia group, says foreign volunteers like himself "should not be treated as terrorists."
The man, who is operating under the nom de guerre Macer Gifford, told RT's Rob Edwards that existing laws dealing with returning fighters are "very incoherent" and "hazy."
Gifford, a former currency trader who gave up his job in the City to join the Kurds, says he has been detained by the British government under terrorism laws, but has never been arrested.
"There is a very incoherent policy when it comes to returning fighters.
"I think the lines are less blurred when it comes to those who fight for jihadist groups. Any extremist needs to be in prison, and I've got a very hard view on this.
"In fact, anyone who goes and actually sets foot on a plane, never mind actually physically gets to Syria belongs in a jail cell, because the very moment you get on that plane, you've attempted murder, you're trying to assist in what these people are doing out in Syria.
"However, those that fight against ISIS, that fight against international terrorists, for a group that are supported by Britain, supported by the Americans and gets a lot of support from international journalists, they should not be treated as terrorists.
"As I say, I've never been arrested, I've just been detained, and when I am spoken to the vast majority of our time is spent talking about how I can keep myself safe while I am in Britain."
Gifford's comments come as a former soldier who attempted to travel to Syria to fight alongside the Kurdish YPG militia was sentenced under the Terrorism Act on Wednesday.
Robert Clarke, 23, was stopped by anti-terrorism police in September last year as he prepared to board a flight from London Heathrow to Jordan. He allegedly planned to meet with Kurdish fighters who would take him to the frontline in Syria.
Clarke, from Wales, who served in the British Army for four years, was arrested after he refused to give detectives his smartphone passcode. He was remanded in custody last month after pleading guilty to obstructing a 'Schedule Seven' search under the Terrorism Act.
According to the Daily Mail, the court heard Clarke had good intentions. He reportedly was planning to go to Syria to "assist victims of war," including by donating medical supplies that were in his luggage along with "military paraphernalia."
Westminster Magistrates Court heard Clarke had received "extremely nasty threats" from Islamic extremists after details of his arrest first emerged in the media. Prison staff were so worried about the threat from Islamic terrorist inmates that he was transferred to solitary confinement while on remand, it was reported.
Clarke was spared jail, and instead handed a year-long community order after pleading guilty to obstructing a search under terrorism laws. He is also banned from leaving the UK for the same period and will have to undertake 50 hours of unpaid work.
The sentencing of Clarke came shortly after it emerged that 20-year-old Ryan Lock was killed in Syria on December 21. He is the third British man to die fighting IS with the Kurds in the country.
Dean Evans, 22, a dairy farmer from Reading, Berkshire died in the city of Manbij in July last year. Former Royal Marine Konstandinos Erik Scurfield, 25, from Barnsley, South Yorkshire died in the northern village of Tel Khuzela in March 2015.
('Macer Gifford' is not the real name of the individual concerned – it is his nom de guerre. There is another individual whose real name is Macer Gifford who has no connection to the individual described in this article.)
You can share this story on social media: