Trade on track: China launches direct weekly train to London stuffed with goods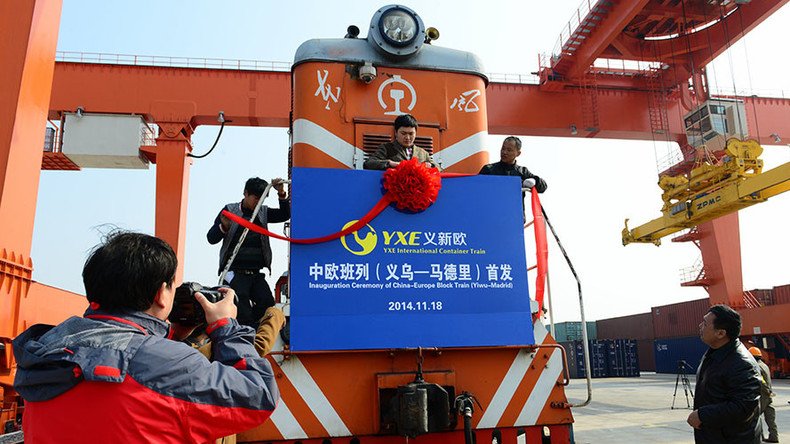 China has launched the first direct freight rail service to London on a journey which crosses seven countries before arriving in the UK.
The 'East Wind Train' departed from the manufacturing hub of Yiwu in eastern China, and is carrying £4 million ($4.9 million) worth of socks, cloth, bags, and household goods.
It is expected to take 18 days to reach its final destination of Barking, East London, having travelled more than 7,500 miles across land and through the Channel Tunnel before arriving in Britain.
The new weekly service is quicker than sea transport and half the price of air freight.
China Railway already runs rail services to 14 European cities, including Madrid and Hamburg. London will become the 15th European city to join what Beijing has dubbed the 'New Silk Route.'
The 34-carriage train will pass through Kazakhstan, Russia, Belarus, Poland, Germany, Belgium, and France before crossing the English Channel and arriving in East London.
Differing rail gauges in the countries along the route means a single locomotive cannot travel the whole journey, so the containers will have to be reloaded at various stages.
China is keen to boost its economy, as growth and exports have begun to slow.
The train's name comes from a famous quote from communist revolutionary leader Mao Zedong, who said: "The east wind will prevail over the west wind."
Last month, China connected its distant east and west corners of the country with a high-speed train.
The 2,264-kilometer Shanghai-Kunming rail line runs across the five provinces of Zhejiang, Jiangxi, Hunan, Guizhou, and Yunnan.
It cuts the travel time from Shanghai to the capital of southwestern China's Yunnan province Kunming from 34 to 11 hours.
According to train driver Wang Jinda, the trains can travel at speeds of up to 330 kilometers per hour.
You can share this story on social media: