Not amused: Queen 'disappointed' May won't spill Brexit secrets
Published time: 23 Dec, 2016 14:14
Edited time: 24 Dec, 2016 14:09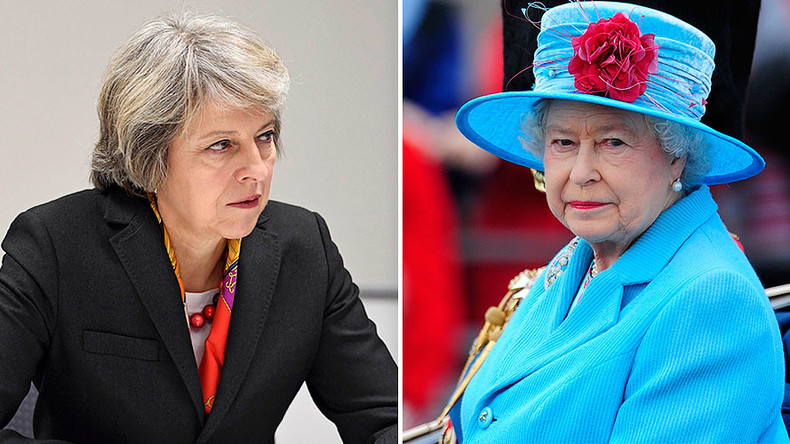 The Queen was reportedly left frustrated with Theresa May after she declined to elaborate on her Brexit strategy during the new prime minister's first trip to Balmoral.
A source told the Times that the Queen was "disappointed" that May didn't share her Brexit plans during the visit. It has become a tradition for the PM to visit Her Majesty's Scottish estate once a year to give them the opportunity to talk in an informal setting.
May's failure to go beyond what she has told the public got the Queen's relationship with her 13th prime minister off to a rough start, the newspaper says.
The Queen and the Duke of Edinburgh were said to be looking forward to hearing more about May's thoughts on Brexit, as well as insights into her cabinet selections and Boris Johnson's appointment as foreign secretary.
So far, May has revealed very little of her EU exit strategy, despite fierce protestations from all sides of the political spectrum.
On Tuesday, she clashed with MPs on the liaison committee for refusing to give definitive answers, but said she would make a speech giving more details in the new year.
Previous accounts of the prime minister's visit with the queen, which took place two months after May took office, were more positive.
At the time, the Daily Mail reported that the two women "got on famously," adding: "There hasn't been a PM since Harold Wilson who entered so gamely into the outdoor pursuits, parlour games and well-regulated rituals."
On Thursday, Buckingham Palace called the story an "anonymously sourced conjecture."
A spokesperson said: "By long-established convention, we never disclose details of discussions between the Queen and her prime ministers. Nor would we comment on anonymously sourced conjecture of this kind."
Downing Street told the Times: "We never comment on private conversations with the Queen."