Russia's UK ambassador summoned by Boris Johnson to discuss Aleppo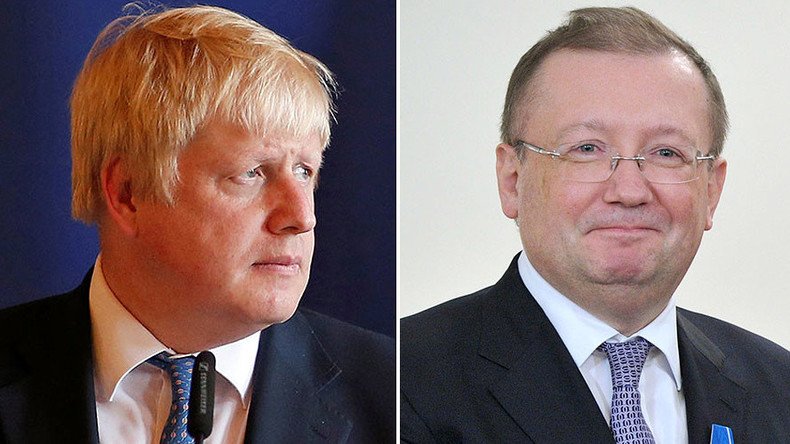 Russian Ambassador to the UK Alexander Yakovenko and his Iranian counterpart have been summoned by UK Foreign Secretary Boris Johnson to discuss the humanitarian situation in Aleppo, Syria.
Johnson, who met with Yakovenko and Tehran's ambassador, Hamid Baedinejad, separately on Thursday afternoon, said he conveyed the government's "profound concern" over the situation in Aleppo.
The Foreign Secretary accused Russia and Iran of failing to uphold international humanitarian law by not facilitating the delivery of aid to civilians during the months when eastern Aleppo was besieged.
He said the two countries deserved "no credit" for the current evacuation underway and insisted that both Russia and Iran allow the UN to oversee the process.
In a statement issued after the meeting, the Russian Embassy in London said it has been insisting on an evacuation of Aleppo for "a long time."
"The Foreign Secretary stated the official reaction of London to the successful humanitarian operation now under way in eastern Aleppo," the statement read.
"Within its framework thousands of gunmen with their families are bussed from the city with the assistance of the Russian military and personnel of the International Red Cross to the territory, controlled by illegal armed formations.
"Russia and the UN have been insisting on this evacuation for a long time. Its purpose is to avoid further bloodshed, and most importantly, to save lives of the civilian population of Eastern Aleppo, to ensure humanitarian access to it. The operation is being covered by about 40 news agencies and TV channels, including the BBC."
In a follow up statement issued on Friday, the embassy said Russia was doing its best to de-escalate tensions and address the "acute humanitarian" problems in Syria, especially in Aleppo.
More than 4,000 residents have already left eastern Aleppo via a 21km long humanitarian corridor jointly controlled by Syrian government forces and illegal armed groups, it said. The evacuation has involved 20 passenger buses, 10 ambulances, and about 100 cars.
The embassy went on to describe Moscow's efforts to de-mine eastern Aleppo and the dispatching of Russian doctors to the city.
"We hear a lot of concerned voices in Western capitals about the suffering of the civilians, but there's no real action coming from them in terms of providing emergency humanitarian aid. The time has come to go from words to actions, if those whose hearts bleed for the humanitarian plight of the Syrian population are truly committed to it."
You can share this story on social media: