MPs will enjoy £1,000 pay hike, while average worker endures 10% real term wage drop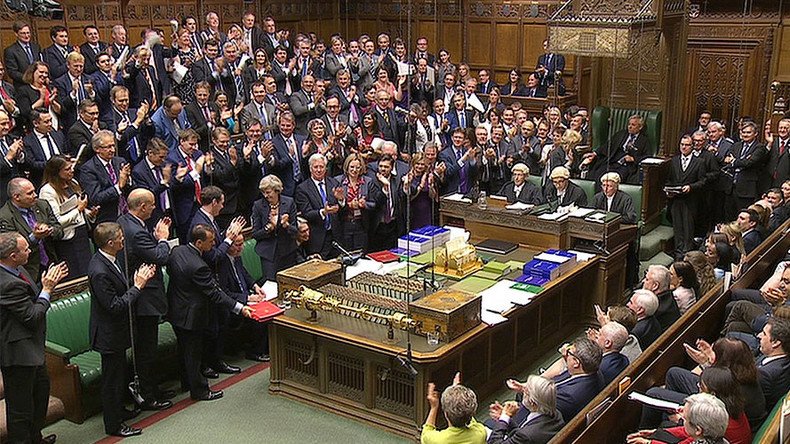 MPs will see their salaries rise by over £1,000 ($1,271) next April, in the second pay hike in just one year, despite average UK earnings falling by over 10 percent in real terms over the past 10 years.
The Independent Parliamentary Standards Authority (IPSA) approved the rise just months after the body pushed through a controversial 1.3 percent salary increase.
The £1,049 pay hike represents a 1.4 percent salary jump, and will see MP's annual earnings rise from £74,962 to £76,011.
It is well above the one percent cap imposed on public sectors until 2019, and significantly higher than most UK wage earners, who have seen their pay drop in real terms over the past decade.
Analysis by the Trade Union Congress (TUC) published in July found that average UK wages fell by 10.4 percent between 2007 and 2015, a decline only equalled by Greece.
The Institute for Fiscal Studies (IFS) predicted last month that real wages in the UK would continue to decline over the next 10 years, with workers earning no more in 2021 than they did in 2008.
The IFS said this was due to Brexit, which will hurt productivity and wage growth, while the declining sterling will drive inflation up.
Meanwhile, MPs have seen their annual earnings increase dramatically over the past two years.
In 2015, the IPSA made the decision to increase MPs' pay by 10 percent, from £67,000 to £74,000.
The latest pay rise comes after reports MPs could be forced to drop lucrative "second jobs" if they conflict with their parliamentary duties.
MPs' second jobs are due to be scrutinized for the first time by the Parliamentary Standards watchdog, according to a proposed new code of conduct.
Research by Transparency International found that many MPs are paid millions of pounds a year for outside jobs.
About 73 MPs were paid £3.4 million in the past year for "external advisory roles," including positions on boards of directors.
You can share this story on social media: