Disunited Europe: EU Parliament angry it has no say in Brexit negotiations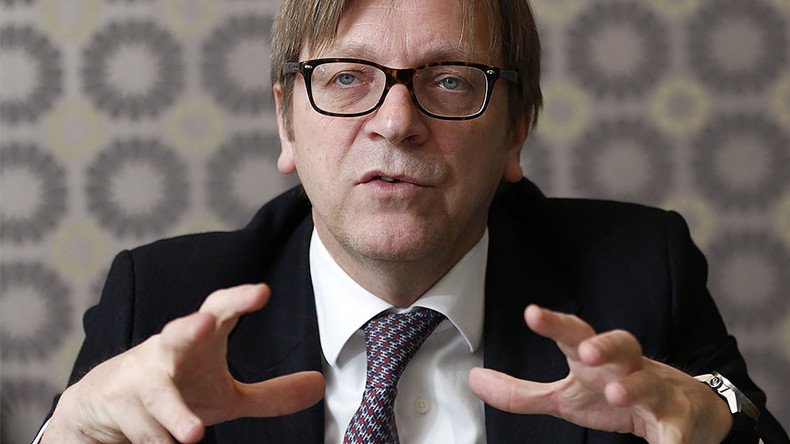 Divisions over how to handle the Brexit are emerging within the EU, with MEPs threatening to begin their own negotiations with the UK if they are not given a say in the talks.
Belgian MEP Guy Verhofstadt launched an attack on representatives of the Council of the European Union on Wednesday, accusing them of trying to sideline the European Parliament in Brexit negotiations.
Former UKIP leader Nigel Farage said the Council's attempt to minimize parliamentary input was evidence of how "unworkable" the EU has become.
The Council of the EU, often referred to simply as the Council, is one of two bodies which make up the EU legislature and represents executive governments of the bloc's 28 member states.
The other is the Parliament, which is the only branch directly elected by EU citizens.
Former Belgian Prime Minister Verhofstadt erupted into a tirade against the Council during a plenary session of the EU Parliament on Wednesday morning.
"What they are proposing is simply to say we go forward with the Brexit negotiations without the parliament," the Daily Express quotes Verhofstadt as saying.
"Are you not aware that we have to approve these arrangements?"
"Do you want that we open separate negotiations with the British authorities? You can get it – if that's what you want we'll do it. It's time that you also involved the parliament from day one."
Verhofstadt went on to quote the late US President Lyndon B. Johnson, who once famously said: "It's better to have him inside the tent p*ssing out, than outside the tent p*ssing in."
"Maybe that's a good reality that you can recall to the European Council," he added.
The Belgian MEP was backed up by outgoing President of the European Parliament Martin Schulz, who said he would raise the issue at the conference of Presidents.
Verhofstadt's explosive speech comes as a draft document leaked to Sky News reveals that the European Commission will take the lead in negotiations apparently in a bid to stop Britain from exploiting divisions between member states.
The two-page document also confirms in writing for the first time that the UK will be prevented from taking part in "discussions of decisions concerning it."
The move will see EU Commission President Jean-Claude Juncker take control of negotiations once Britain triggers Article 50.
You can share this story on social media: