If politicians want Aleppo airdrops, they should be on the planes themselves – MP
Fiery former army colonel-turned-MP Bob Stewart has told MPs lobbying for military intervention in the ruined Syrian city of Aleppo that if they want airdrops, they had better volunteer to be on the planes.
He was speaking at an emergency Commons debate on the question of how the UK should respond to the end of the four-year siege of the city by the Assad government.
The debate was called by Tory MP Andrew Mitchell to "to explore with the Government how Britain's immense diplomatic muscle, the finest foreign service in the world, can do more to secure a deal that will ensure a ceasefire for at least 24 hours to enable innocent civilians to be rescued."
Read more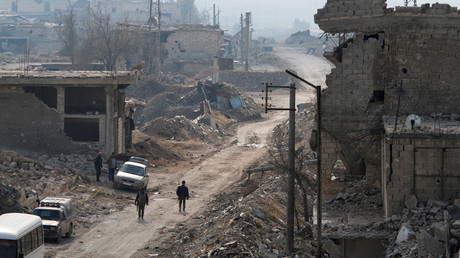 Backbencher Stewart, formerly of the Cheshire Regiment, initially interrupted Labour Shadow Foreign Secretary Emily Thornberry to say that those lobbying to send aircraft into Russian-controlled airspace had better be willing to go along themselves.
Stewart was also a UN commander in Bosnia and was involved in military humanitarian operations, including uncovering human rights abuses and massacres.
He said that while he would very much like to see a humanitarian corridor to the east of Aleppo, he wanted to explain some of the practicalities involved.
"It would be a very difficult operation, requiring at least Syrian government and Russian approval. Clearly the route must be free from air and ground attack," he argued.
"Without this, establishing a safe route in and out of Aleppo would be impossible. That is the first and probably the most vital prerequisite for achieving success."
Stewart said he also took it as a given that the operation would be done under the direction of the UN.
He said that even if such an operation was successful, and a convoy did get people out of Aleppo, those people's care would then be the responsibility of their rescuers.
"Finally, let me remind this House, that if the members of this House suggest that we should lead humanitarian convoys into Aleppo, that we bear responsibility for whatever happens good or bad."
Other comments included those by former Chancellor George Osborne, who argued that the problem in the region was a lack of Western intervention, telling the Commons that if the UK did not shape the world, it would be shaped by it.
Emily Thornberry, in her opening speech, contested the need to deploy manned aircraft to drop aid. She suggested that drones of GPS-operated parachutes could be used so as not to risk UK military personnel.