Bystanders rifled through homeless man's pockets as he froze to death (VIDEO)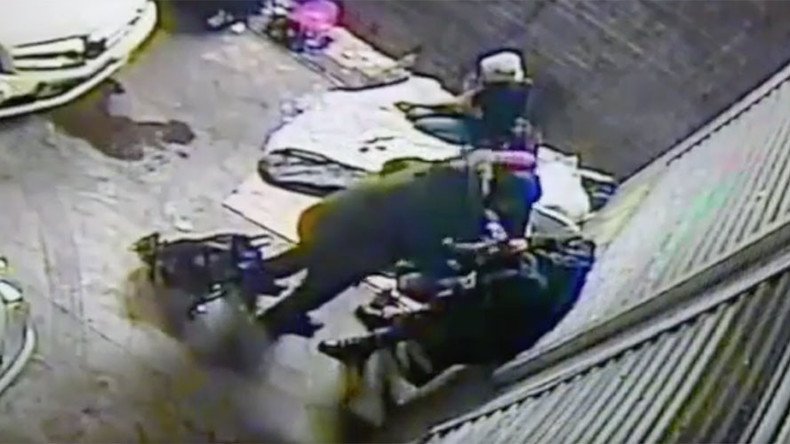 Disturbing CCTV footage has emerged showing people searching through the pockets of a homeless man as he lay dying in sub-zero temperatures in Birmingham.
Video from a security camera shows the man, who has yet to be identified, surrounded by a group of people injecting themselves with drugs.
Other members of the group can be seen rifling through his pockets as he lay slumped against a doorway on Tuesday night.
The man, believed to be in his 30s, was discovered by a customer at a nearby pub. Paramedics were called at 11:20pm and he was pronounced dead at the scene.
West Midlands Police suspect his death may have been related to drugs.
Two other men who sleep rough in the NCP parking lot told the Daily Mail of the moment his body was discovered.
"I always sleep there, me and my friend. It was absolutely freezing cold," one man said.
"I was having a can of lager because I'm quite a bad alcoholic. We were sleeping next to him and didn't even realize.
"Every night we sleep in the NCP car park – but not now because we woke up to someone shouting 'He's dead, he's dead!'"
A second man described how they called for help.
"We got an ambulance because we didn't know how long he was dead for. Obviously, there was nothing we could do for him.
"The police came in here and sealed it off as a crime scene."
Birmingham's homeless population numbers around 9,560 people, according to a recent survey by housing charity Shelter.
The charity's Birmingham hub manager, Vicky Hines, said: "Thousands of people in the West Midlands will face the trauma of waking up homeless this Christmas."
Figures released by Shelter on Wednesday reveal that 255,000 people across the country are currently forced to live in hostels and other types of temporary accommodation, or to sleep rough on the streets.
You can share this story on social media: