No soft touch! Germans demand tough Brexit line from Merkel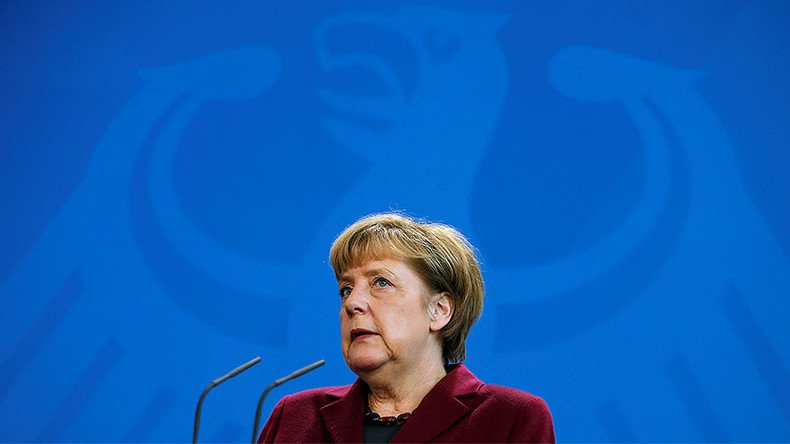 The Germans are taking their turn to call on politicians to take a tougher stance on Brexit, following several threats from the French government to push Britain's border back from Calais to British territory once the UK leaves the EU.
According to a new survey by the Körber Foundation, Chancellor Angela Merkel has the backing of 58 percent of the German population when it comes to taking a hardline position during Brexit negotiations. Supporters of her CDU party were especially keen on Merkel not giving way. Far-right and left-wing parties however were less opposed to compromise.
The figures came shortly after it was reported that the German leader rejected an idea from British Prime Minister Theresa May for an early deal on residency rights for Brits living in Germany and Germans living in the UK.
The results will be bad news for Number 10, with the figures for Germans supporting cooperation over a 'hard Brexit' dwindling from 63 percent in 2014 to 53 percent today. Indeed, a mere 5 percent believe the UK-Germany relationship should be top of Berlin's foreign policy agenda.
Earlier suggestions that Britain will be unable to stay inside the single market when it leaves the European Union are being played down by the British government, despite a senior Conservative Party aide being photographed holding a memo apparently detailing part of the government's negotiating position.
The words "What's the model? Have your cake and eat it" could clearly be seen among the documents held by one of Tory vice-chairman Mark Field's members of staff as the pair left a meeting with the Department for Exiting the EU. The phrase immediately stoked concern among Remainers in Westminster and online.
"If this is a strategy, it is incoherent," said Liberal Democrat leader Tim Farron. "We can't have our cake and eat it and there is no certainty on the single market. This picture shows the government doesn't have a plan or even a clue."
Labour's shadow education secretary, Angela Rayner, tweeted: "Govt cannot tell us #Brexit plans so we end up zooming in on Tory aide carrying a notepad for info #brexitshambles."
But some critics thought the 'leak' was premeditated, with a Twitter user named Beryl Jones quipping: "The 'leaked' memo about Brexit was exposed by Mark Field's aide. Mark Fields is a Remainer. This leak was probably deliberate."
A government spokesman said of the pictures: "These individual notes do not belong to a government official or a special adviser. They do not reflect the government's position in relation to Brexit negotiations."
You can share this story on social media: