Pound of flesh? New £5 note contains animal fat, holds no currency with vegans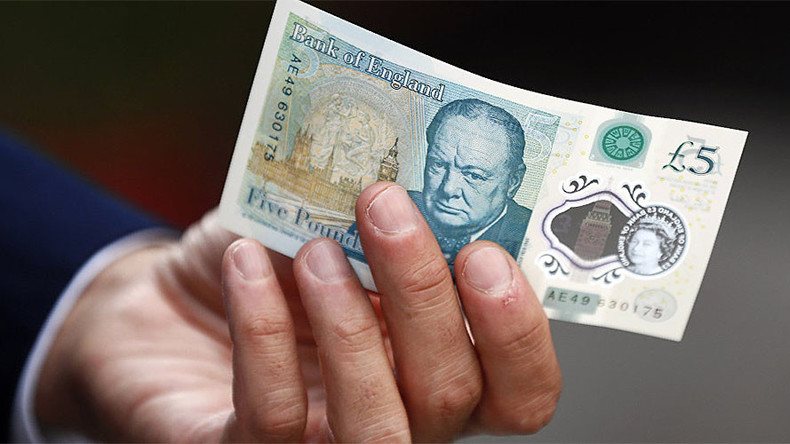 Vegans and vegetarians have a major beef with the Bank of England (BoE) after learning the new British £5 note contains animal fat.
The new bill, introduced by BoE Governor Mark Carney, is made with a substance called tallow, derived from animal fat and often used in the production of soap and candles.
More than 8,000 people have signed a petition demanding the BoE stop using animal products in the production of the new note.
"There is a trace of tallow in the polymer pellets used in the base substrate of the polymer £5 notes," the Bank of England confirmed in response to a question on Twitter.
Social media users were quick to criticize the BoE for not considering vegans or vegetarians when they introduced the new note.
"How sick, unnecessary & prehistoric. WHY must EVERYTHING in this world contain part of a slaughtered animal ffs?!" one user, named MsNeededReminding, tweeted.
Another questioned the legality of the practice.
"Surely this is not legal given Equality Act, religious grounds for Hindus and protected status vegans," Twitter user Fizzylace wrote.
However Dan, a self-professed vegan, was not bothered by the revelation.
"New £5 note isn't vegan. Was everyone's 2016 New Year's resolution to do ridiculously insane stuff like adding meat to money?" user Dan Hanks wrote.
Another said, "So unnecessary in 2016! I will no longer be accepting these notes. Ironic I donated my first fiver to a Vegan sanctuary."
The petition, which is nearing 9,000 signatures, states: "The new £5 notes contain animal fat in the form of tallow. This is unacceptable to millions of vegans & vegetarians in the UK. We demand that you cease to use animal products in the production of currency that we have to use."
The BoE unveiled its first polymer bank note – which features a portrait of wartime Prime Minister Winston Churchill – in June this year, arguing the new material is cleaner, safer and stronger.
"Polymer notes can survive a splash of claret, a flick of cigar ash, the nip of a bulldog, and even a spin in the washing machine afterwards to boot," Carney said at the presentation of the note at Blenheim Palace, Churchill's birthplace in Oxfordshire.