Royal Navy flagship threatened by ISIS drones, explosive speedboats – head of fleet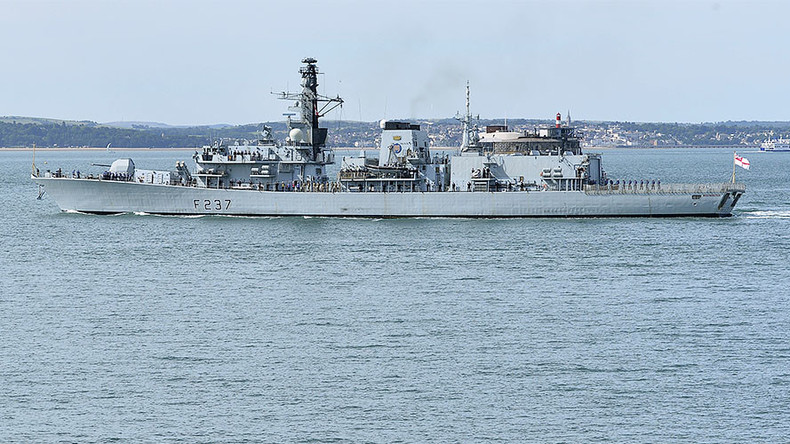 Britain's Royal Navy fears its flagship, HMS Ocean, currently deployed in the Gulf, could face attack by Islamic State (IS, formerly ISIS/ISIL) drones and Iranian speedboats packed with explosives.
HMS Ocean, which has a 500-strong crew, including 30 Royal Marine Commandos, is currently in the Gulf to secure the vital trade route through the Strait of Hormuz.
Commodore Andrew Burns is head of the fleet. The group consists of eight ships from France, Britain and the US.
Speaking to the Times on Tuesday, Burns said threats to his command included "an irregular organization, a terrorist organization, who would be operating explosive boats, perhaps explosive UAVs [unmanned aerial vehicles], and small arms, RPGs [rocket-propelled grenades] from speedboats, fast boats, operating around my ships."
Threats are also thought to include IS drones and Iranian-operated drone boats packed with explosives.
HMS Ocean itself is defended with an advanced Phalanx weapon system designed to shoot down incoming missiles, as well as 30mm cannons.
Decades after the UK withdrew to the west of the Suez Canal amid the last gasps of empire, the country has begun to rebuild its presence in the Middle and Far East.
In early November, Prince Charles opened the first section of the controversial Mina Salman naval base in the Kingdom of Bahrain despite condemnation of the regime's human rights record.
The base represents Britain's first permanent military presence in the Middle East since 1971, and was built using mostly Bahraini cash. It will be used by the Royal Navy alongside the US's own large naval base.
The Bahraini ambassador to the UK wrote in the Telegraph that the Naval Support Facility (NSF) in Manama is just the latest expression of a long alliance between the two nations.
"With the region continuing to face difficult times, the British return to East of Suez is a reassuring sign that our countries remain steadfast friends and allies, with strong diplomatic, military and trade relations," Fawaz Bin Mohammed Al Khalifa wrote of the base.