Confessing your sins? There's an app for that! Catholic Church launches 'Sindr'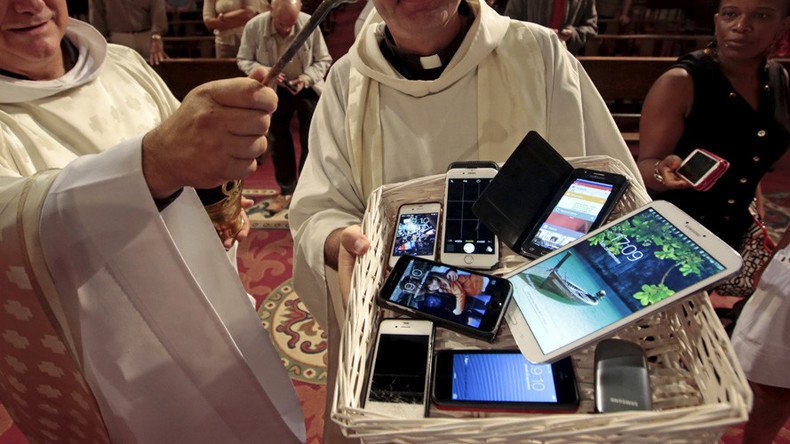 Move over Tinder, the grace of God is now available for download. Absolution is just a click away for churchgoers who use the Vatican's new 'Sindr' app, which helps users find their nearest church.
The Catholic App, as it is properly called, uses GPS technology to guide penitents and lost souls alike to a nearby church offering confession or celebrating mass.
Developed and launched by the Archdiocese of St. Andrews and Edinburgh, it is believed to be the world's first 'confession finder.'
The app was launched in front of St. Peter's Basilica in the Vatican on Tuesday and is due to go live in early 2017.
"The idea was really inspired by the Holy Father himself," Edinburgh's Archbishop Leo Cushley told Vatican Radio.
"He said to be imaginative about what to do for the Holy Year of Mercy."
The app uses technology by Scottish software firm Musemantik and will be available on iPhone and tablet devices.
It will provide data on all 110 parishes within the diocese of St. Andrews and Edinburgh, which covers an area of around 2,000 sq miles.
Another five dioceses in Scotland are said to be interested in purchasing the technology from Musemantik.
Musemantik founder Dr Maciej Zurawski said: "Websites are losing popularity – what is needed to engage with the mobile generation is an app that is smart and personal, an app that is like a companion, a friend that takes the initiative to inspire you – that's the vision behind the Catholic App."
Cushley added that he hoped everyone would use it
"I hope everyone's going to use it," Cushley said, keen that the legacy of Pope Francis' so-called Extraordinary Year of Jubilee, which just drew to a close, "won't only be a spiritual one, it will also be a practical one."
You can share this story on social media: