Trump camp 'will call Nigel Farage before Theresa May' to discuss policy, says UKIP donor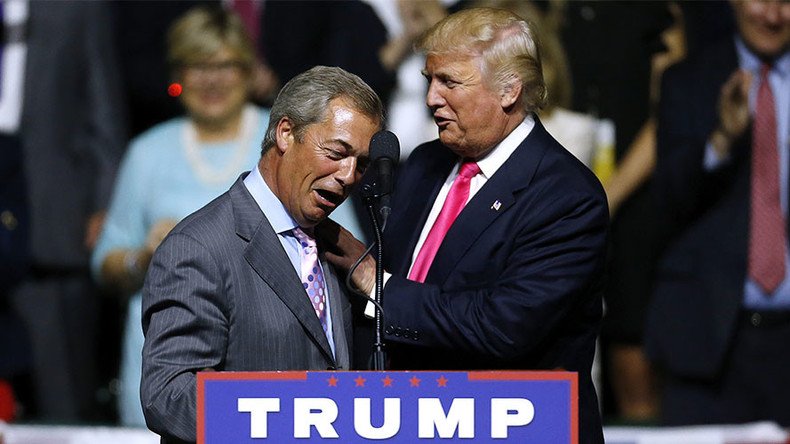 US President-elect Donald Trump will consult interim UKIP leader Nigel Farage on policy proposals affecting Britain before consulting Prime Minister Theresa May, it has been claimed.
Stephen Bannon, Trump's newly appointed chief strategist, will "run ideas" past the UKIP leader before speaking to May, according to prominent UKIP donor Arron Banks.
"There is no doubt about it that Steve Bannon will talk to Nigel Farage before any other British politician and run stuff by them," Banks told the Telegraph.
Banks said Trump and Farage are old friends who spoke or texted each other "every day – they are best mates."
Farage, who traveled to New York after the presidential election last week, is the only high-profile British politician to meet with Trump.
"When he opened the door it was like, 'Come on in Nigel.' They are as close as two people can be in politics," Banks said.
The closeness of their friendship was "not going to go away," Banks said, because "Nigel has a hotline to the president and the president's chief adviser."
On Monday, Farage said his access to Trump means May should use him to "put the national interest first." He says he could "provide instructions" and "start the necessary process of mending fences."
But Downing Street has dismissed Farage's offer to build a relationship with the Trump camp after disparaging comments were made by ministers and No 10 aides during the presidential election campaign.
May's official spokeswoman claimed Trump has already said he wants a Reagan-Thatcher style relationship with the PM, adding: "I don't remember there being a third person in that relationship."
She added that the government already had "well established" channels of communication with the US government.
Farage responded, telling LBC radio: "It just amazes me that those ghastly little apparatchiks that work in Downing Street put out statements like this.
"It just goes to show they are not really interested in the country or the national interest, they are more concerned about petty party politics and trying to keep me out of everything.
"If you think of America in terms of a business and think of them as a client we want to do business with, what would you do? You would use the person who has the connections.
"Nobody in this administration in the UK has any connections with the Trump team at all, and yet they are prepared on behalf of the country to cut off their noses to spite their faces."
Downing Street has hinted that May is planning to visit Washington to meet with Trump earlier than expected, after originally intending to wait until Trump is sworn in as president in January.
You can share this story on social media: