May's post-Brexit Beijing cash grab sees pledge of 'golden era' of Chinese investment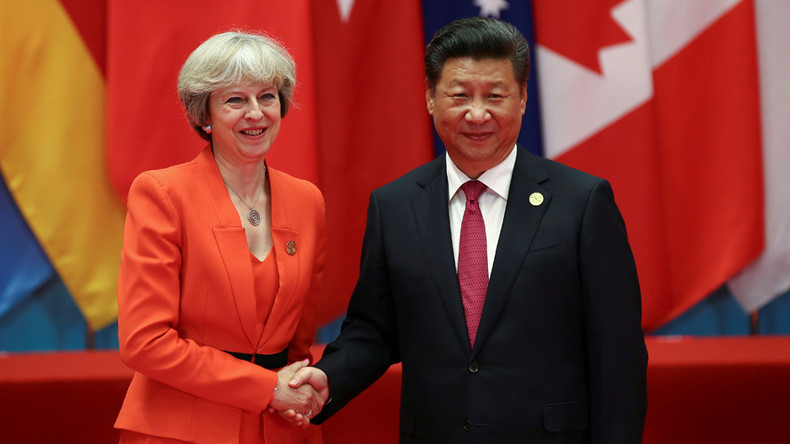 UK Prime Minister Theresa May is launching a fresh charm offensive on Beijing as Chinese officials visit to discuss future investment in the UK.
The PM has restated her commitment to a "golden era" of Sino-UK relations, months after causing upset in Beijing by commissioning a security review into the construction of a Chinese-backed nuclear power plant.
Chancellor Philip Hammond will meet with a Chinese delegation on Thursday for the eighth UK-China Economic and Financial Dialogue in a bid to foster greater ties with the Asian superpower.
"I'm determined that as we leave the European Union, we build a truly global Britain that is open for business," May said in a statement ahead of talks.
"As we take the next step in this golden era of relations between the UK and China, I am excited about the opportunities for expanding trade and investment between our two countries."
The PM angered Beijing earlier this year when she suspended construction of a new nuclear power plant with Chinese financial backing over national security concerns.
China's ambassador to the UK published a prominent opinion piece in the state-run China Daily newspaper on Thursday, imploring the PM to make "wise strategic choices" concerning Britain's relationship with Beijing.
Liu Xiaoming did not explicitly mention Hinkley, but said "a number of steps need to be taken in order to maintain the momentum in the relationship" between Britain and China.
Hammond also used the phrase "golden era" to describe Sino-UK relations, echoing ex-Chancellor George Osborne's much-touted expression.
"The mutual benefits are clear," he said in a statement.
"China is the world's second largest economy; UK exports to China have grown rapidly and Britain is home to more Chinese investment than any other European country."
Chinese contractor CITIC Construction is set to invest £200 million ($248 million) in the first development phase of the £1.7 billion London Royal Albert Docks project.
Britain in turn will invest up to £40 million in the Asian Infrastructure Investment Bank, established in Beijing with the purpose of helping developing countries with infrastructure programs.