Trump presidency could herald war with Russia, say UK defense chiefs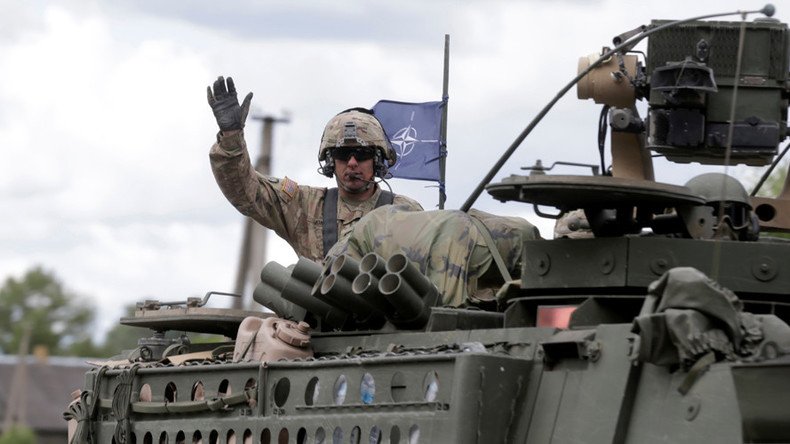 A war with Russia could be imminent if President-elect Donald Trump follows through with his promises to scale back US involvement in NATO, British defense chiefs have reportedly warned.
A number of British military commanders cited in the Daily Mail urged the UK and Europe to increase defense spending in response to Trump's repeated threats on the campaign trail to opt out of NATO's mutual defense pact, which holds that an attack on one member state is an attack on all.
"From a security point of view this may be the wake-up call Europe needs," Former Royal Air Force (RAF) chief, Sir Michael Graydon said last night, according to the paper.
"We can expect Trump to be quite serious on this one, he will not forget it. If European nations do not raise their game then there are real concerns over the future of NATO."
"If the US leaves NATO it would be absolutely disastrous and just what Vladimir Putin would like. If a situation occurs in the Baltic where we need to take a firm stance, the credibility of this would be lacking without the US."
General Lord Dannatt, former head of the Army, said: "We've seen Donald Trump threaten all sorts of things, we should take that threat seriously."
"From a UK point of view we have to think about increasing our own defense expenditure.
"We should actually realize that Trump means it and states have to do more about their own role in NATO. If the US walks away, Nato ceases to exist, almost by definition, so we would have to invent something else. In the context of Brexit that is ridiculous."
The reported remarks were echoed by European Commission President Jean-Claude Juncker, who said on Wednesday that Europe cannot rely on security guarantees from Washington.
"The idea that the Americans will eternally see to… European security is not true. Independent of the outcome of the US election, the Americans will not see to Europe's security forever. We have to do it ourselves. And this is why we need a new approach to the European community of defense, including a European army," Juncker said in Berlin.
If Trump does as he says & pulls the plug on NATO, UK will face 2 alternatives. Become a satrap of the US, or find our way back into the EU

— Paddy Ashdown (@paddyashdown) November 9, 2016
Trump repeatedly criticized the alliance as a Cold War relic and signaled that as president, he would consider the contributions of an ally to NATO before lending American military aid. The US currently contributes more than 70 percent of the alliance's expenditure.
The one-time reality TV personality has also signaled he would take a softer stance on Russia than his predecessor. Trump has called for greater cooperation between the two countries in the fight against terrorism.
You can share this story on social media: