#StopFundingHate: Twitter users demand Daily Mail boycott over Brexit ruling coverage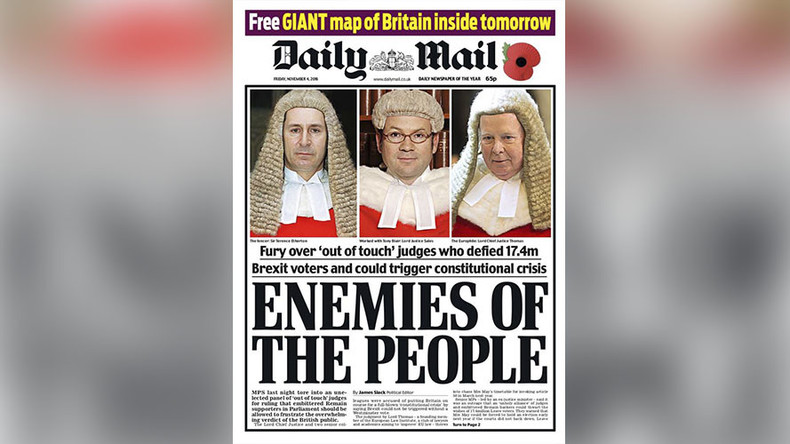 Thousands have taken to social media with the hashtag #StopFundingHate to urge companies advertising with the Daily Mail to stop in response to the paper's coverage of Thursday's high court ruling on Brexit.
Prime Minister Theresa May's government suffered a blow on Thursday when judges ruled that parliament would need to trigger Article 50 of the Lisbon Treaty to formally start the UK's exit from the EU - a decision which has left many Leave supporters furious.
In reaction, British newspapers attacked the judges behind the ruling, suggesting it was a display of judicial independence gone too far.
Stop Funding Hate, a group set up to put pressure on advertisers funding the newspaper, raised concern about the Daily Mail's "expose" on the "out of touch" judges. The paper branded them "enemies of the state" a day after deriding one as "openly gay."
In a Facebook post, Stop Funding Hate said it would call out every advertiser featured in the Daily Mail on Friday.
Co-op UK, British Airways, Mercedes Benz, Iceland supermarket, Asda, and Morrisons are among those named. The hashtag soon began trending, with many backing the movement.
Lawyers and legal experts also thought the newspapers' sentiments were over the top.
Others labelled the newspapers' front pages "dangerous" and "irresponsible."
In August, the Stop Funding Hate campaign ran a similar drive urging brands to pull advertising from the Daily Mail - as well as the Sun and the Express - for their coverage of refugees and migrants. The trio of tabloids was accused of using "fear and division to sell more papers."
You can share this story on social media: