Dealing a blow: Cocaine seized at UK border hits 11yr high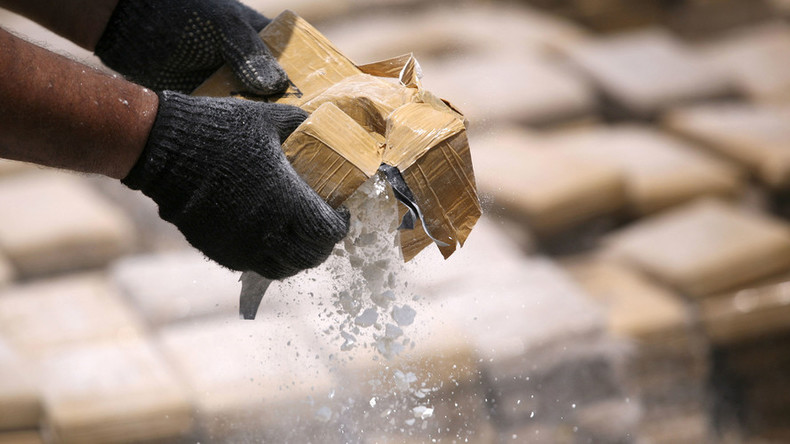 The amount of cocaine seized by police and Border Force officials has soared to an estimated 4,228kg in England and Wales during 2016 – an 11-year high.
The sudden spike constitutes a rise of 31 percent on the previous year.
There was also a rise in seizures of herbal cannabis, which doubled from 15,105kg to 30,493kg – the highest level since 2009.
A report on the rise argues there is a direct correlation between snatching drugs and street-level drug offenses.
The 2015-2016 figures appear to support that claim by showing a 13 percent drop in logged drug crimes.
Despite the rise in seizures, a report from May indicated the UK has a strong flow of cocaine – if the amount in our sewers is anything to go by.
Research by the EU drug agency, which examined wastewater samples in more than 60 European cities, showed that the average daily concentration of cocaine in London's wastewater was 909mg per 1,000 people last year – up from 737mg in 2014.
Amsterdam came in second for cocaine usage, at 642mg per 1,000 people. When only weekend samples were analyzed, London's levels rose even further—to 1.044kg.
To assess cocaine levels, researchers tested the sewage samples for traces of BE – a chemical produced when the body breaks down the drug.
Though the study revealed that cocaine use is generally declining across the continent, London is among the handful of cities where use of the Class A drug is on the rise.
"Most cities show either a decreasing or a stable trend between 2011 and 2015, but in a few cases, in particular Brussels and London, an increase in BE loads was observed in this period," the annual European Monitoring Centre for Drugs and Drug Addiction report said.