Far-right Britain First deputy leader Jayda Fransen abused Muslim mother, court finds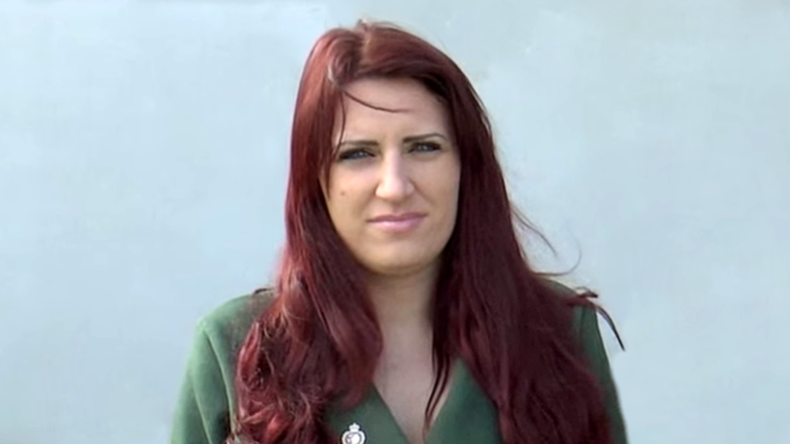 Jayda Fransen, deputy leader of the far-right group Britain First, was found guilty of shouting abuse at a Muslim woman while brandishing a white cross in front of her four young children.
Fransen, who is often seen in the group's promotional videos next to leader Paul Golding, lost all control with Sumayyah Sharpe, who was wearing a hijab.
The incident took place in Bury Park, Luton, on the afternoon of January 23 during one of Britain First's 'Christian patrols.' The confrontation was caught on camera by Britain First members.
At Luton and Bedfordshire Magistrates' Court Sharpe recounted how she had gone shopping with her children when she passed a group of Britain First members handing out newspapers.
According to the Crown Prosecution Service's Kirsty Allman, the front page read "World War Three has begun – Islam against the world."
Sharpe said she refused a newspaper, adding it represented "everything against me and what I believe in."
Fransen then crossed the road and told Sharpe that her headscarf was imposed by Muslim men who "cannot control their urges" to rape women.
"She came across, shouting at me, saying 'Why are you covered?' and she said that quite a few times. I told her it was my choice that I cover," Sharpe told the court.
"I then turned to the camera and I said 'Film me, I'm British, I'm a British Muslim. It's my choice to wear this clothing and it's my right.' I called her a slapper, I admit, and I told her to p*** off because I was so angry at that point that she had done that in front of my children."
The footage of the incident was shown in court and Fransen is heard yelling: "Your men say you have to cover yourself to avoid you being raped. You are being hidden because your men cannot control their urges."
Allman told the court Fransen also said: "That's why they are coming to my country and raping women."
Sharpe claims she had to explain to her children what rape was following the incident. Her four-year-old son is said to be sacred to leave the house, fearing a second encounter with the far-right group.
The court concluded with Fransen guilty on one charge of religiously aggravated assault and one count of failure to surrender to police bail.
Britain First in court
This was not the first time Fransen has been sent to court for her political activity.
Earlier this year, Fransen and Golding were defeated in the High Court, where an injunction was placed against them from entering parts of Luton and any mosque in England and Wales for the next three years.
Golding has also been convicted this year for wearing a political uniform. It was the second time Golding was brought to justice due to Britain First's green fleece, emblazoned with the group's coat of arms. He was spared jail but fined £450 (US$560).