Nigel Farage says he will 'join Donald Trump's team in the White House'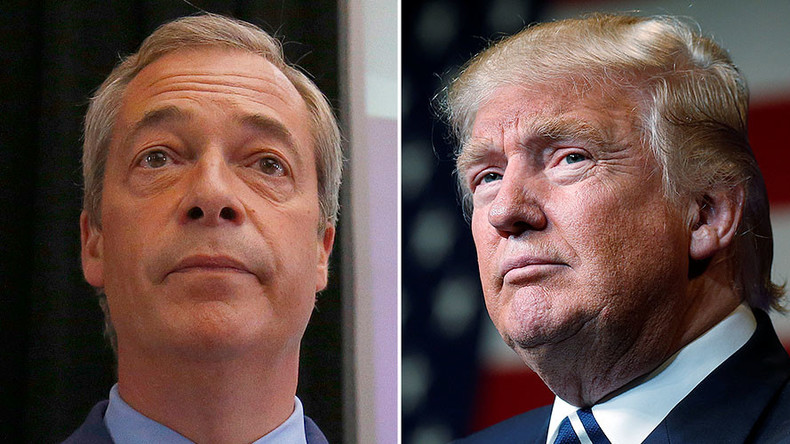 UKIP's interim leader, Nigel Farage, has quelled rumors that he plans to star in the reality TV show 'I'm A Celebrity, Get Me Out of Here!' – instead joking he will be on his way to the White House to take a job in Donald Trump's administration.
"Rumors that I'm off to the jungle in I'm a Celebrity next week are entirely untrue," Farage said, speaking at the Spectator Parliamentarian Awards on Wednesday night.
"No – I'm booked on the first flight out next Wednesday morning to Washington where I will be joining Donald Trump's team in the White House," he said.
His comments were met with boos from the audience.
"Oh come on, cheer up!" Farage replied.
"He's going to be the next leader of the Western World, what's the matter with you?"
"That is, of course, the attitude that you all took to Brexit – it could never happen, it was irrelevant," Farage added, according to i News.
"My achievement is to have taken an issue that was considered to be completely wrong, perhaps even immoral, and help to turn it into a mainstream view in British politics," he observed.
Farage and Trump met in August when they shared a platform during a campaign rally at the Mississippi Coliseum in Jackson.
Farage has since denied reports claiming that he coached the Republican to help prepare him for the presidential debates against Hillary Clinton.
Trump, who shares some of Farage's views on immigration, has cast his candidacy in the same light as the Brexit campaign, saying the British people "took their country back" and that Americans are ready to do the same – by voting for him.
Farage was at the Spectator Awards to accept a lifetime achievement gong presented by former chancellor George Osborne.
In his acceptance speech, he told the Tory MP: "George, if I'd known that you were going to present me with an award I would not have said in the Sunday Times in the wake of your resignation that you were a pasty-faced bastard who should never be seen again in public life in this country."
Farage, who has quit as leader of UKIP three times, returned to the helm recently after Diane James resigned after just 18 days.