Drone operator job ads suggest US military is flying kill missions from Britain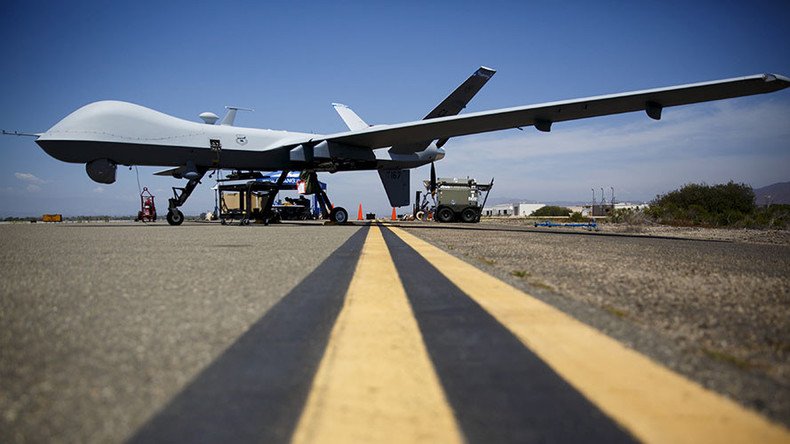 Despite strenuous denials by the military, leaked job descriptions appear to show US drone operators are flying kill missions from UK soil.
If the claims by a humanitarian NGO are correct, the UK may be willingly hosting operations which breach international law.
While the Ministry of Defence (MoD) has blasted the allegation as a mere "conspiracy theory," one ad seen by the charity Reprieve appears to be recruiting for an all source analyst to be based at RAF Molesworth in Cambridgeshire to support US military operations in Africa.
Despite its RAF prefix, Molesworth is used by the United States Air Forces in Europe (USAFE). Plans have been made to draw down the US military presence in Britain – including at nearby RAF Lakenheath – but as of October 2016, they remain in American use.
The job being advertised requires the successful candidate to "perform a variety of advanced targeting operations… in support of employment of GPS guided weapons, weaponeering and collateral estimation, as well as utilizing the tools required for advanced targeting."
A CV uploaded to a careers site and spotted by Reprieve reportedly features claims by the author that he was a MQ-9 Reaper ISR Mission Intelligence Coordinator at RAF Molesworth.
The Reaper is the main strike drone used by the US and is armed with Hellfire missiles and Paveway bombs.
Ads have also been spotted for intelligence-gathering operators and maritime specialists.
"Despite the continuing conspiracy theories and associated hype in the media, the reality is that there are no US Remotely Piloted Air System support facilities operating anywhere in the UK," the MoD said in a statement to the Guardian.
Reprieve says the findings are the "strongest evidence yet that the US may be conducting its illegal, secret drone war from bases on British soil." The charity said the MoD's attempts at debunkery do not stand up to scrutiny.
"Simply to say that drones are not flown from the UK is missing the point, if it is personnel on British soil that are at the top of the so-called 'kill chain' and British agencies who are feeding targets into those lists," said Reprieve's staff attorney Jennifer Gibson said in a statement.
"The British government has questions to answer over its own involvement in this secret war."
You can share this story on social media: