Argentines burn British flags to protest Falklands military drills (VIDEO)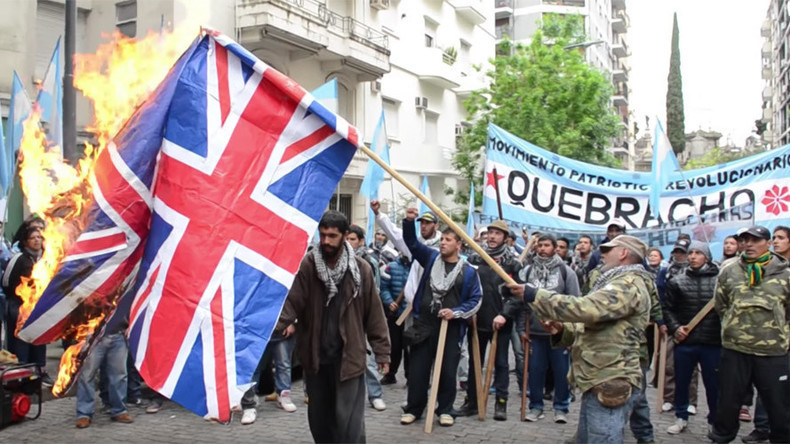 Hundreds of Argentines have joined protests against British military exercises in the Falkland Islands (also known as Islas Malvinas) by setting fire to Union flags outside the British Embassy in Buenos Aires.
Video footage taken by the Ruptly video agency shows a crowd of hooded protesters belonging to the far-left Quebracho Patriotic Revolutionary Movement loudly demonstrating and stomping on the Union flag.
The crowd erupts into cheers when a group set fire to a Union flag.
Buenos Aires has lodged an official complaint with Britain's ambassador over military exercises currently taking place in the Falklands.
British troops have been deployed to the islands from October 19 to October 28, where they are carrying out tests involving Rapier missiles, according to Forces TV.
"It [the exercise] causes pain and deep anxiety because it carries a presumption of a conflict hypothesis," Argentina's Foreign Minister Susana Malcorra is quoted by the Express newspaper as saying.
"These exercises are a reiteration of a practice that is held every year. It is not new, but it is serious because Argentina has established in its constitution to make claims within the frame of international law.
"We will see if we can start dialogue to eliminate presumptions of conflict."
Deputy Foreign Minister Carlos Foradori summoned British Ambassador Mark Kent to express the "displeasure" of his government.
He said Argentina will "inform the Secretary-General of the United Nations of the situation."
Relations between Britain and Argentina had begun to thaw after center-right Mauricio Marci was elected president of the South American nation.
Although the goal of reclaiming the Falklands is enshrined in Argentina's constitution, Marci has indicated the dispute will not get in the way of fostering good business and political relations with Britain.