Twitter loses it over British Army 'blackface' tweet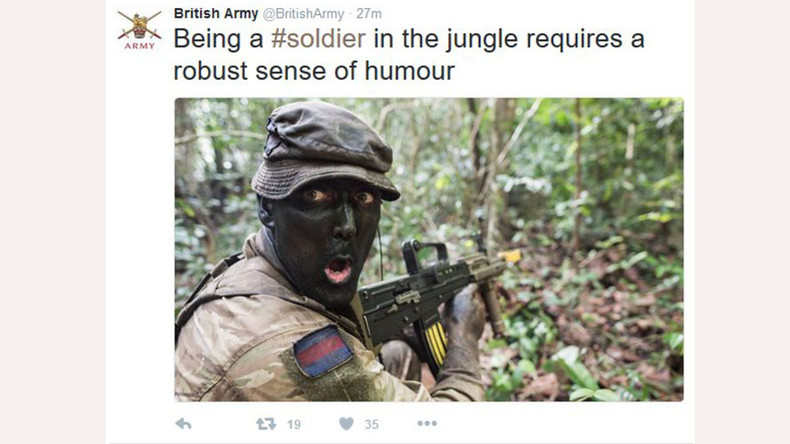 The polarization of the left and right-wings of the Twittersphere has been laid bare by a British army tweet featuring a photo of a soldier with his face covered in camouflage cream during a jungle warfare exercise.
The official army photo was of a soldier with dark 'cam cream' on his face in the Belizean jungle.
Some liberal-minded Twitter users immediately equated it with the racist 'blacking up' trend, causing the army to quickly delete and apologize for the tweet.
However, the army's quick retreat drew reaction from right-leaning Twitterati, who rapidly blamed the 'PC Brigade' for overreacting.
Cam cream is standard issue for jungle warfare and, on closer inspection, much of the cream on the soldier's face is actually green.
It is also of note that soldiers of all races are expected to use the cream, as it is designed to eliminate the reflective shine of skin oils produced by all humans that can theoretically give them away in a combat environment.
The British armed forces have gone to great lengths to attract black, Asian, and ethnic minority (BAME) recruits recently.
While the military maintains that this is because it wants to better reflect Britain's diverse society, critics suggest it is more likely a response to the military's serious recruitment shortages.