Neo-Nazi band cancels Scottish gig after anti-racism protests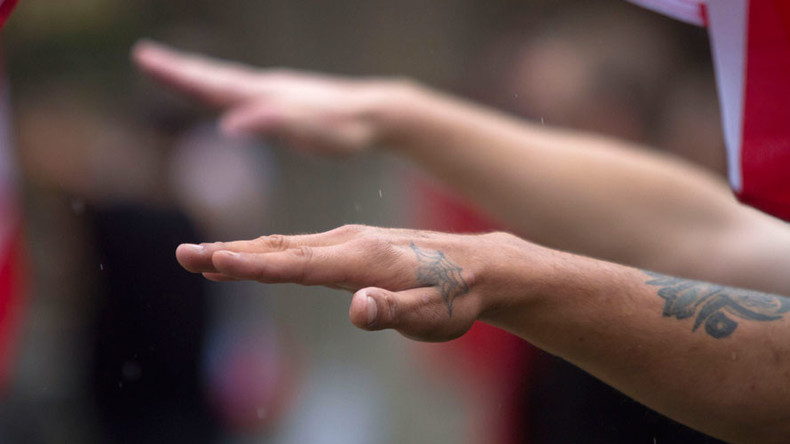 American 'white power' band Bound for Glory has reportedly canceled its first concert in Scotland after campaigners called for the neo-Nazi group to be barred from entering the UK.
The controversial band was due to perform to an audience of 500 at an undisclosed venue in Scotland on October 22.
Anti-racism campaign group Hope not Hate said the concert would have been the "biggest ever Nazi gig" to take place in Scotland, attracting far-right fans from across Europe.
Victory! The Nazi gig in Falkirk due to take place next week has been cancelled! The band have pulled out citing travel concerns...

— HOPE not hate (@hopenothate) October 16, 2016
According to Hope Not Hate founder Nick Lowles, the concert was canceled on Sunday evening due to "travel concerns."
Lowles told the Guardian he had been "fairly confident" the gig would be canceled, after 17,000 people contacted their MPs and MSPs about the event.
"We had expected the Scottish government to step in, given the politics of the SNP [Scottish National Party] which have always been very good on race," he said.
"In Scotland generally at the moment, there seems to be more of a public rejection of racism."
SNP Justice and Home Affairs spokesperson Joanna Cheery said she was considering raising an urgent question on the issue in Parliament on Monday.
Scottish Justice Secretary Michael Matheson said on Sunday he intended to write to the British home secretary, Amber Rudd, to ask her to consider barring the "violent neo-Nazi band" from entering the UK.
"The best approach would be to refuse this band entry to the UK, and I will be writing to the home secretary to ask that she consider this," he said in a statement.
"I have also asked the chief constable to consider with partners powers available to stop this event from happening. There is no place for hatred of this kind in Scotland."