Baby's insanely fluffy bouffant hair breaks the internet (VIDEO)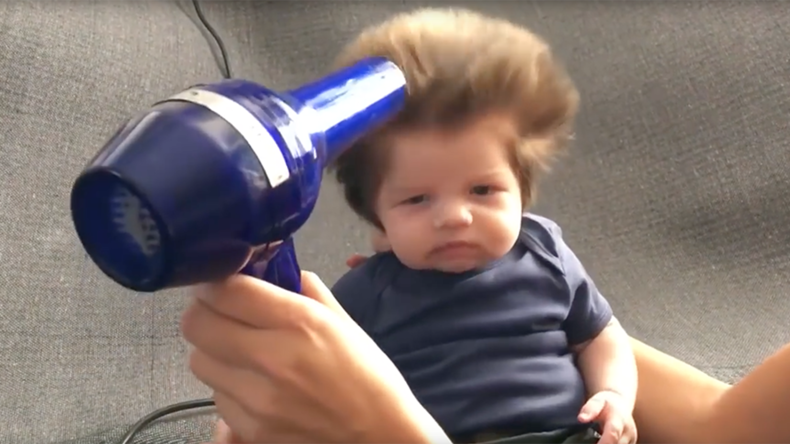 Two-month old Junior Cox-Noon attracts so much attention with his impressive mane of hair it takes his mum two hours to go grocery shopping. Junior's hair is so thick and full, hairdresser mum Chelsea has nicknamed him 'Baby Bear.'
Chelsea, 32, from Brighton, has taken to blow-drying the baby's bouffant because it takes too long to air dry.
"He came out with loads of hair. I didn't realize how much until he had his first bath," she said.
"All the midwives and health visitors said it would fall out because baby hair usually comes out when they rub their head on the back of the cot, but he hasn't lost any of it and it has grown."
Neither of Junior's brothers, four-year-old Mitchell or six-year-old Preston, were born with such gravity-defying hair.
Mother-of-three Chelsea claims her baby's incredible bouffant is so dazzling that she finds it hard to go anywhere in public.
"When I take him with me on the weekly shop in Asda everyone does a double-take and says, "Oh my God, look at the baby's hair."
Despite being a hairdresser, Chelsea says she has no plans to cut Junior's hair any time soon.
"It's too unique so I'm going to leave it as it is," she said.
"His brothers really love him, my youngest is always running up to Junior saying "I want to pinch his fat cheeks."
You can share this story on social media: