Trident nuclear submarine officers destroy Navy bar in drunken riot after 3 months at sea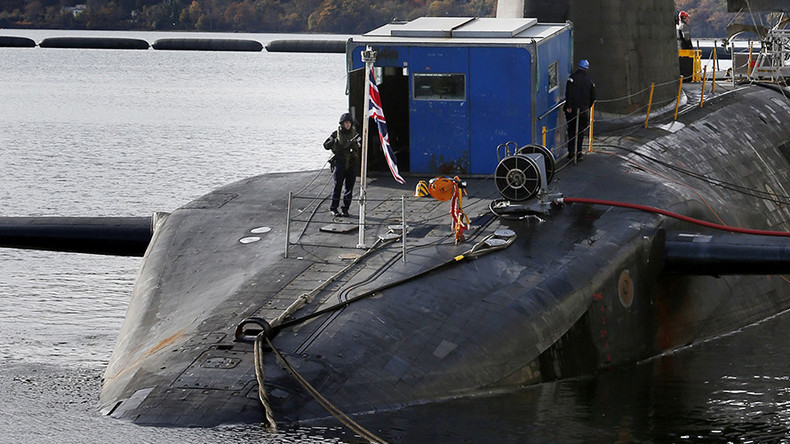 Royal Navy officers returning from a three-month patrol on a nuclear submarine have been ordered to turn themselves in after devastating a bar and cinema in a drunken rampage.
The senior Trident submarine crew trashed the Faslane naval base Neptune Cinema after a civilian who manned the bar clocked off, leaving an 'honesty bar.'
A source at the base told the Daily Record that ordinary sailors would be "up on charges" over the crime, so "officers shouldn't be treated any different."
The submarine, which carries Britain's constant at-sea nuclear deterrent, returned to base in Scotland last Friday, the Daily Record reports.
The officers are said to have started drinking at 5pm, but only began their drunken riot after the bartender had left.
A report has been sent to Faslane senior commander Commodore Mark Gayfer detailing the destruction to the bar and cinema, which has since been roped off by military police who are reportedly searching for fingerprints.
The officers' damage to the facility includes ripping the projector from the ceiling, tearing down the cinema screen, vomiting on the carpet, throwing an antique diving helmet around the room, and smashing photographs hanging on the wall.
A source at the base told the Daily Record: "The place was a wreck. It was like a bunch of football hooligans had been scrapping in a bar.
"It looks like things got out of hand and they just went around smashing anything they could get their hands on for the sake of it. When a member of civilian staff went in the next morning one of the young officers was lying asleep under a piano in the bar.
"He was oblivious to the trouble he was in and went up to his quarters to sleep it off."
The source was surprised to see such behavior among officers, who are meant to lead by good example.
"If any of the ratings were caught behaving like this they would be up on charges, so the officers shouldn't be treated any different."
It is thought the top brass have ordered those responsible to turn themselves in.
The Navy is currently undergoing a recruitment crisis because so few young people are willing to be cut off from social media for up to 90 days at a time.
One serving submariner told the Daily Express the job isn't attractive to young sailors.
"We're all being asked to do extra tours, and there's a lot of frustration.
"There are key skill gaps, but the real problem is that the service just isn't attracting younger sailors. I suppose the Facebook generation just don't want to be cut off for so long."
You can share this story on social media: