'Go home to Africa': Anti-refugee stickers appear in Cambridge park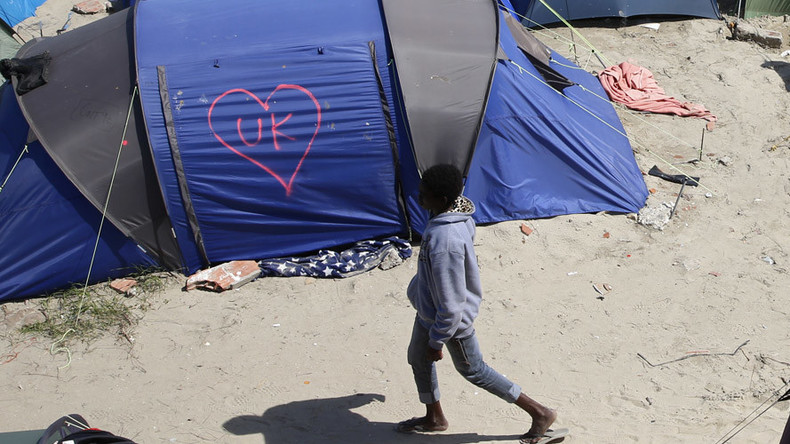 Stickers bearing the slogans "refugees not welcome" and "go home to Africa" have appeared in Cambridge, central England, drawing condemnation.
The stickers were found stuck to lampposts in the Romsey Recreation park, and appeared to be parodies of the Refugees Welcome campaign which promoted inclusion. The stickers also said "bring your families home" and "destination Africa". Some fear they could incite tensions or hate crimes.
"I believe we should help refugees as much as possible but I also think there does need to be the support in place when they do come here," local man George Williams told the Cambridge News. "I really don't think putting up these stickers is a very nice thing to do. It is only going to fuel even more hatred and is meant to be incendiary."
"We do not want any of that kind of racist filth in Cambridge," local MP Daniel Zeichner told the News. "The people of Cambridge have sent a very strong message to the world that we are an open, tolerant and welcoming city. I would say take the stickers off and put them in the bin if you see them."
Cambridge currently hosts 14 Syrian refugees under the British government's Syrian Vulnerable Persons Resettlement (VPR) scheme. Cambridge City Council is also one of the local authorities taking part in the Full Community Sponsorship scheme, which allows local churches, businesses and other community organizations to help support the refugee resettlement programme.
Stefan Haselswimmer, founder of the Cambridge Refugee Resettlement Campaign, was keen to point out the racist stickers should not reflect on the vast majority of the people of Cambridge.
"I think this is like Twitter in that those that are the noisiest make the most noise but it is not representative at all of people in Cambridge, who are keen to help refugees," he told the Cambridge News.
Police are investigating and have appealed for anyone with information about who may have placed the stickers to come forward. The stickers are the latest in a string of racist and xenophobic incidents, which are on the rise in the UK since the Brexit vote.
Last Thursday stickers with the slogan "rapefugees not welcome" were found in the northern town of South Shields.
In June, a neo-Nazi group plastered stickers around Glasgow declaring certain areas to be a "white zone."
There have also been violent attacks on foreigners. In August, a gang of teenagers in Harlow beat a Polish man to death after hearing him speaking his native language.