UK PM Theresa May met 'kingmaker' Rupert Murdoch on UN visit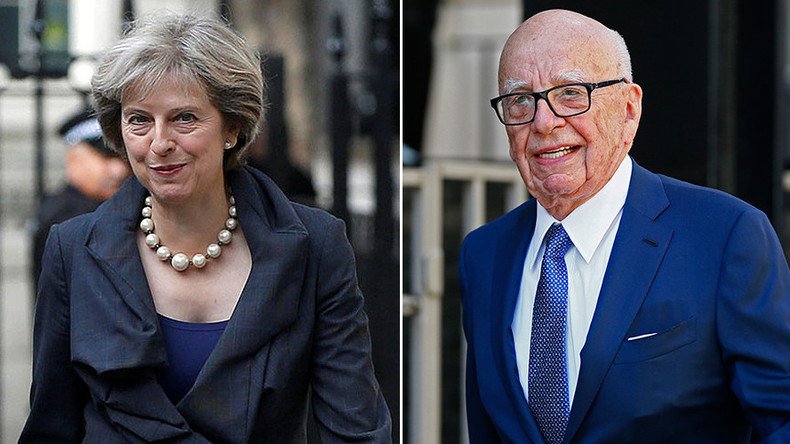 UK Prime Minister Theresa May met privately with media mogul Rupert Murdoch in New York last week during a visit that lasted only 36 hours.
May squeezed in the meeting during her one-night trip to the United Nations General Assembly, where she made her first UN speech since becoming PM.
Downing Street confirmed a "brief meeting" had taken place when she met with staff from Murdoch's Wall Street Journal newspaper.
The meeting with Murdoch, who owns The Times and Sun newspapers and Sky television in the UK, comes just three months after former PM David Cameron's resignation.
Britain's second female PM was a favorite of the Murdoch press in the subsequent leadership election, with the Sun declaring: "The final choice for our next prime minister must be between Theresa May and Michael Gove. No one else will do."
News of Murdoch's meeting with May comes as the PM is under fire in the UK for her ambiguous stance on Brexit, with some party heavyweights accusing her of having no plan for leaving the EU.
The media mogul is outspoken in his criticism of the EU, and reportedly told journalist Anthony Hilton he disliked the union because: "When I go into Downing Street, they do what I say; when I go to Brussels, they take no notice."
British prime ministers have traditionally relied on support from Murdoch's media empire in order to win elections, so much so that the press baron is commonly referred to as the UK's 'kingmaker.'
His friendship with former Prime Minister Tony Blair was seen to have had a very real impact on the political process in the UK, with the Sun backing Labour in every election Blair took part in.
Murdoch is also said to have pushed Blair hard to back former US President George W. Bush in invading Iraq.
They also fostered a personal relationship, with Blair becoming godfather to one of Murdoch's children. Their friendship, however, collapsed when allegations of Blair having an affair with Murdoch's now ex-wife Wendi Deng came to light.
May also met with executives from some of corporate America's biggest firms at the British Consul General's Residence while in New York.
Bankers from Goldman Sachs, Morgan Stanley and BlackRock mingled with the PM alongside bosses from Amazon and IBM.
You can share this story on social media: