British man faces 'terrorism charges' linked to eastern Ukraine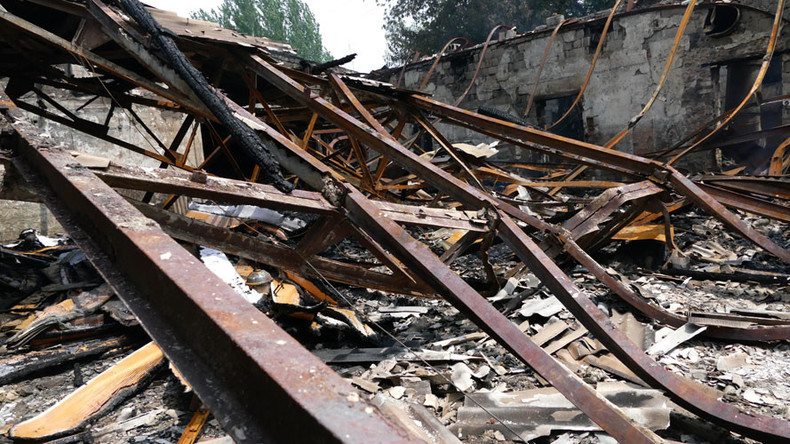 Benjamin Stimson, 41, appeared in court on Wednesday facing terrorism charges relating to the conflict in eastern Ukraine. He is thought to be the first Briton charged in relation to the war.
The Oldham resident appeared at Manchester Crown Court charged with "the intention of committing acts of terrorism and engaging in conduct in preparation for giving effect to his intention," and with "the intention of committing acts of terrorism and assisting acts of terrorism."
In October 2015, Stimson was allegedly filmed with a rebel group in eastern Ukraine saying he was prepared to kill if his life were under threat, PA reports.
In a video posted on YouTube in August, Stimson said he had been told by journalists to handle a weapon on film and that he had not taken part in military action.
He also maintains he went to the area to drive ambulances and was in the process of escaping a militia when he was filmed.
He was remanded in custody until he is due to appear before the Old Bailey in October.
British citizens fighting in foreign conflicts have increasingly become an awkward legal issue.
In early September, Turkey said it would regard Britons fighting alongside Kurdish militias as terrorists. British citizens who have volunteered to fight Islamic State (IS, formerly ISIS/ISIL) are merely "crusaders" who will be treated as terrorists and killed if necessary, a Turkish government official warned at the time.
Yunus Akbaba, spokesman for Turkish Prime Minister Binali Yildirim, said the same applied to Westerners from other nations, including Turkey's NATO allies.
"These are terrorist groups and anyone fighting under their banner will be considered terrorists," he said of the People's Protection Units (YPG), which is a proscribed group in Turkey.
"It is the responsibility of the countries where they come from to prevent them from joining these groups. Turkish forces will confront them if they are fighting under the banner of terrorist groups, regardless of whether they are members of allied countries," he told Middle East Eye.