Anti-war artwork condemned by the Sun and ex-military MPs was actually endorsed by veterans
Published time: 27 Sep, 2016 11:34
Edited time: 28 Sep, 2016 13:53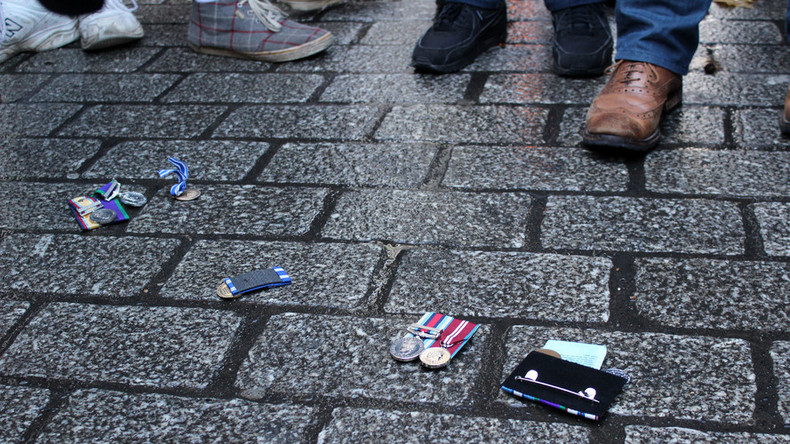 Former British soldiers have responded fiercely to ex-military MPs who attacked their satirical anti-war art project. The ex-services group accused them of being "self-appointed veterans' champions" who "trade off the backs of ordinary soldiers."
The response by Veterans for Peace UK (VFP UK) follows a verbal attack on the satirical art project, parts of which were displayed at a Momentum event on the fringes of the Labour Party Annual Conference in Liverpool on Sunday.
The veteran-endorsed 'Army: Be the Meat' artwork was originally commissioned by military veterans in 2015 to highlight a number of issues relating to the poor treatment of veterans and soldiers, and opaque military recruiting practices.
On Sunday, right-wing blogger Guido Fawkes and the Sun newspaper reported on the presence of a small amount of the artwork – including satirical mugs, posters, and badges – on a stall at the Momentum fringe festival.
Two former military officers – conservative Johnny Mercer and Labour's Dan Jarvis – criticized the art in the Sun newspaper.
It appears neither the MPs nor the Murdoch-owned paper realized the project was actually endorsed by hundreds of veterans.
Former Parachute Regiment officer Dan Jarvis told the paper the display was "extremely disrespectful to our armed forces and veterans who provide outstanding service to our country.
"It is utterly unacceptable that those who have been injured in the service of our country should be pilloried in this way," he added.
Mercer, a former artillery officer who campaigns on many veterans' issues, called those running the stall "Britain-hating anarchists who know the value of nothing."
On Tuesday, VFP UK responded to the claims in no uncertain terms.
They said the "superb 'Army: Be The Meat' project and the 'Action Man: Battlefield Casualties' films" were "conceived in response to years of dishonest army recruitment material and we continue to endorse it."
They attacked both the MPs and journalists involved in slurring veterans, "many of whom bear the wounds of active service in wars from D-Day to Libya," and went on to attack the newspaper itself.
"In their jingoistic ardour for clicks, the reporters clearly did not even bother to check into the background of the project," the group said, arguing a mere web search would have shown it was backed by hundreds of veterans.
"We might also note that Johnny Mercer and Dan Jarvis, both former military officers turned politicians, both self-appointed 'veterans' champions,' used the Murdoch-owned Sun newspaper as a platform to attack the project and, by extension, attack the veterans involved in it," the statement added.
"This is the same newspaper group whose senior editorial staff acquired the personal details of dead soldiers, apparently by paying MoD [Ministry of Defence] officials."
Those who "attack the efforts of former service personnel in the Sun, or even speak to the Sun, you are no champions of soldiers or veterans."
VFP UK said "for too long" the "British establishment, the Sun, the 'hero' charities, Jarvis, Mercer and their like" have been "trading off the backs of ordinary veterans and soldiers to push their pro war agenda."
"Those days are drawing to a close," they added.